JTTRI International Seminar on Utilization of Mobile Phone Big-Data (MBD) for the Transport Sector in Thailand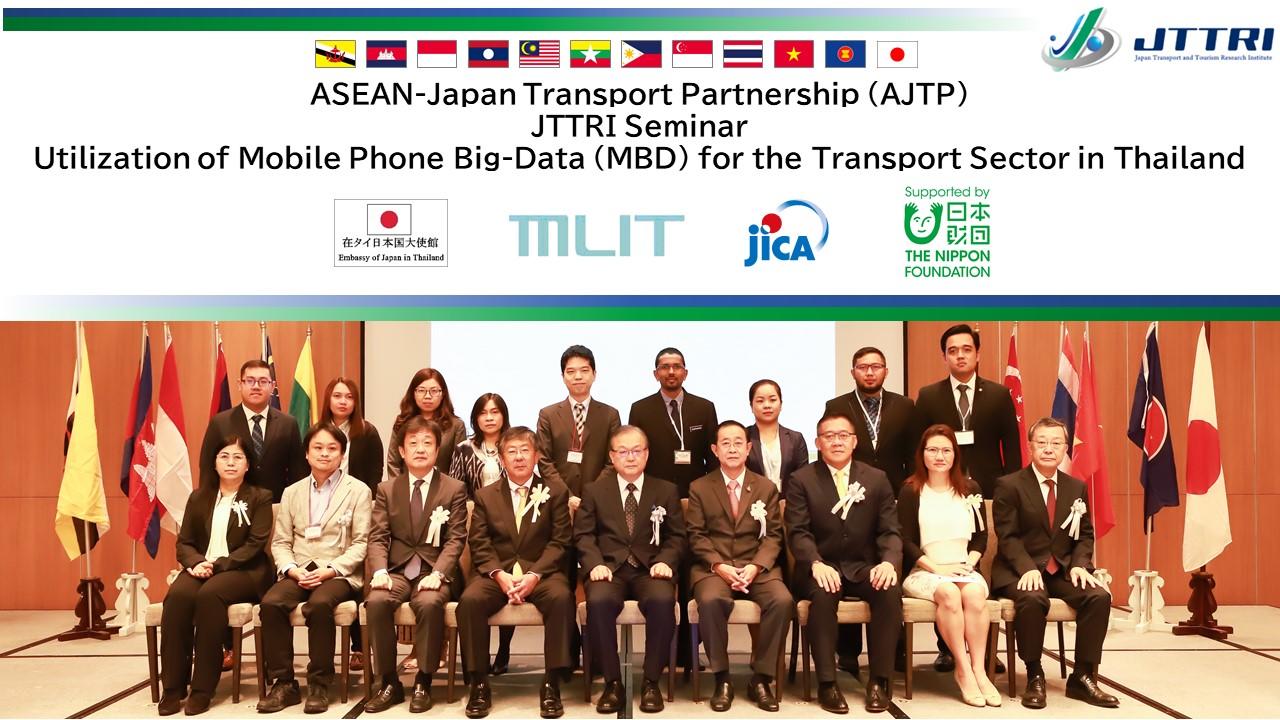 Organizer
Japan Transport and Tourism Research Institute (JTTRI)
Sponsorship
Ministry of Land, Infrastructure,Transport and Tourism (MLIT-Japan)
Embassy of Japan in Thailand
Japan International Cooperation Agency (JICA)
Ministry of Transport(MOT)
Date / Time
Wed, Jan 15,2020 9:00~12:05
Venue
Ballroom A 7F, The Westin Grande Sukhumvit, Bangkok
Theme
Utilization of Mobile Phone Big-Data (MBD) for the Transport Sector in Thailand
Lecturer
Opening Remarks:
 Masafumi Shukuri, Chairman, Japan Transport and Tourism Research Institute (JTTRI)

Honorable Guest Remarks1:
 Chayatan Phromsorn, Office of Transport and Traffic Policy and Planning (OTP), MOT, Thailand
 Kazuya Nashida, Ambassador to Thailand, Japanese Embassy in Thailand
 Yasuhiro Okanishi, Director-General for International Affairs, MLIT, Japan

Keynote Lecture1:
 Yoshihide Sekimoto, Associate Professor, Institute of Industrial Science, University of Tokyo

Keynote Lecture2:
 Tiranee Achalakul, Director of Big Data Experience Center, Government Big Data Institute(GBDI)

Presentation:
 JTTRI, ASEAN Member States and ASEAN Secretariat

Honorable Guest Remarks2:
 Arkhom Termpittayapaisith, Former Minister of Transport, the Kingdom of Thailand

Closing Remarks:
 Tetsuya Okuda, Executive Director,Japan Transport and Tourism Research Institute (JTTRI)
Event Summary
 ASEAN countries, unlike Japan do not have a comprehensively maintained traffic statistics. This combined with the rapid growth rate of ASEAN cities, puts the conventional statistical methods of Japan, which is costly and time consuming, in a situation difficult to support on its own. Meanwhile, big data collected from mobile devices such as smart phones can be acquired swiftly and at a low cost, and is hoped to be used for devising an effective transportation policy. We are resolved to hold this seminar as a venue for stakeholders from Japan and ASEAN, for developing new traffic statistics and recommend transportation policies, by utilizing big data, in ASEAN countries including the Kingdom of Thailand.
 In this seminar, after an opening remark by Chairman Masashi Shukuri of JTTRI, an honorable guest remark was given by Chayatan Phromsorn of Office of Transport and Traffic Policy and Planning (OTP) , MOT, Thailand, Ambassador Kazuya Nashida of the Japanese Embassy in Thailand, and Director-General for International Affairs, Yasuhiro Okanishi, Ministry of Land, Infrastructure, Transport and Tourism, respectively.
 In the first half, Associate Professor Yoshihide Sekimoto of the University of Tokyo, and Director Tiranee Achalakul of Big Data Experience Center, Government Big Data Institute, Thailand, both gave a keynote lecture from the viewpoint of utilizing big data in the fields of transportation and tourism.
 In the second half, Research Fellow Toshiaki Muroi of JTTRI reported on the relationship of mobile big data utilization in Japan and the Act on the Protection of Personal Information, while the ASEAN member states, the ASEAN Secretariat each presented their current state and issues on legislation protecting personal information that concerns big data utilization.
 Presentations and discussions were made on the building traffic statistics by big data obtainable in many forms, and the prospects of transportation and tourism by using the latest data. Representatives of the ASEAN countries also presented the status and future challenges on mobile big data utilization in each nation, exchanging useful information.
 At the closing of the seminar, Arkhom Termpittayapaisit, former Minister of Transport gave a review of the seminar in his honorable guest remark.
Program of the seminar is as the following
Opening Remarks
Honorable Guest Remarks
Honorable Guest Remarks
Honorable Guest Remarks
Keynote Lecture
Keynote Lecture
Presentation
Honorable Guest Remarks
Closing Remarks
MC

Tuenjai Fukuda
Secretary-General, ATRANS(Asian Transportation Research Society)
Outline of the seminar
【Highlights of Keynote Lecture by Associate Prof. Sekimoto Yoshihide : Univesity of Tokyo】
 ・Performing estimations by measuring the flow of people, combining it with behavioral models. From data, we are explicating the movement of people in
  various contexts.
 ・Conducting data collection/analysis to monitor urban infrastructure quickly and inexpensively, and there are examples of estimate the transport volume
  in each link from OD table.
 ・In Myanmar the "ANZEN SATREPS" project utilizing CDR data (a type of mobile big data) is being implemented to reproduce the movement of people.
 ・We are progressing on visualizing cities by combining point group data, wide-area building data, facility management data, satellite imagery and aerial
  photograph data, and developing digitalization of cities in 3D data.
【Keynote Lecture by Dr. Tiranee Achalakul : Big Data Experience Center】
 ・Data on people's behavior can be roughly divided into behavior data, intention data, transaction data, and attribute data; these big data are a new
  resource, equivalent to oil field development in a new era.
 ・The data required for machine learning consists of input data, execution tasks, knowledge management, and AI technology.
 ・In Thailand, by using API we are implementing "Pin"-as-a-Service, for data held by the Tourism Authority of Thailand, Ministry of Tourism and Sports,
  etc., to provide details on so-called minor sightseeing spots that do not appear at the top search results of Google etc.
 ・This is also linked to a MaaS (Mobility-as-a-Service) function. When one taps a minor tourist spot displayed in the above-mentioned "Pin", the
  transportation method to the place will also be displayed, thus enabling access to sightseeing spots as seamlessly as possible.
【Report from Research Fellow Toshiaki Muroi : JTTRI】
 ・Introduced the definition of Act on the Protection of Personal Information, and personal information in Japan.
 ・Regarding guidelines on the protection of personal information in the electromagnetic communication business, clarified the points for converting
  personal information into anonymously processed information in accordance with the revision of the Act on the Protection of Personal Information.
 ・Introduced examples of success and failure related to the use of big data in Japan, and introduced the factors. In particular, regarding NTT DOCOMO's
  efforts, which is considered a successful case, points such as setting up a third-party committee, providing explanations to users in advance, setting up
  a dedicated website, appropriately roughened data, and starting application from public use, were given.
【Report by Ms. Souphany Heuangkeo : Laos】
 ・A bus locator system is operating in Laos.
 ・Considering an operation plan using mobile data.
【Points from Report by Dr. Subramani Paiduthaly : Malaysia】
 ・Master plan being prepared for points to be provided by telecommunications companies.
 ・Utilizing MBD to supplement traditional questionnaire.
 ・Act 709 is a law for personal data protection, and stipulates the authority to process personal information.
  The meaning of personal information, in sensitive areas, include religion and politics.
【Report by Ms. May Mon Zaw : Myanmar】
 ・JICA is conducting a joint survey, but telecommunication carriers have not yet provided MBD.
  In reality, no data has been provided because the law is yet to be established.
 ・Legislation for personal information protection is still being developed, and has not been completely protected.
 ・For challenges facing MBD, the difficulties are the lack of existing laws and the lack of rules for personal information.
 ・Companies want to enhance their services, want to partner with third parties, but currently do not know what to do. Innovation is needed.
【Report by Ms. Ruth Espinosa Montes : Philippines】
 ・We are currently requesting data from the carriers PLDT and Globe.
 ・There is a law to protect personal information. Targets both the government and the private sector.
  Regardless of the form of the material, if there is information, it is personal information.
 ・When receiving data from telecommunications carriers, the problem is that the administration has no knowledge or expertise.
  If we receive data, we want to use it for transportation network models.
【Report by Mr. Kelvin Ng Zhi Hao : Singapore】
 ・There are already examples of MBD analysis results. Utilize for public transportation.
 ・We have already collected and analyzed P2P data, survey data, and ticket data. We want to use MBD in the future.
 ・As the use of data progressed, laws for personal information protection has changed.
  The Personal Data Protection Act was enacted in 2015, and guidelines have been formulated.
 ・In the future, we would like to lead up to real-time analysis, improvement of traffic flow, elimination of congestion, and analysis of transportation means.
   To grasp the actual situation of the movement and life of various people, it leads to the cost of collecting information.
【Report by Ms. Sukanya Meebangkoed : Thailand】
 ・For the purpose of traffic improvement, a fair and efficient transportation system is necessary for the people.
  MBD is very important for this and contributes to better service and decision-making.
 ・Since 2013, all commercial vehicles are required to use GPS. Planning to conduct traffic regulations using GPS data.
  The use of MBD is very effective in providing public transportation and matching demands, by analyzing the OD of traffic and the route taken.
 ・BMTA data can only tell how many people get on and off at bus stops. Does not tell how many people will be waiting for the next bus.
  This can be estimated by using MBD. This leads to a reduction in user's waiting time and travel time.
 ・It can also be a service for the elderly and the disabled. Want the movement between bases to be efficient. Also effective for disasters and traffic
  regulations.
 ・Laws for personal information protection will be enforced soon, and is a barrier to MBD collection. We hope that the mindset of telecom carriers will
  change.
【Reports by Mr. Rasyid Indra Pratam and Mr. Riyan Saputra : ASEAN Secretariat】
 ・The utilization of big data has only just begun and has just been recognized. Just recently in last year, an interregional meeting was held in Singapore.
  There was a presentation on the potential use of big data for public statistics.
 ・The method differs in each ASEAN member countries. The concept note was developed to focus on future building capabilities and education.
 ・Human resource development related to big data initiatives is necessary within ASEAN. There are challenges in data sources,
  capacity (human resources), and methodologies.
 ・Not limited to the transportation sector, there is hope for grasping various events more accurately.
  Conventional methods (such as questionnaire surveys) are inefficient.