JTTRI-AIRO Opening Commemorative Symposium
ASEAN's Logistics amid Turbulent Times

~The Current State and Challenges of Logistics in the ASEAN Region with a Focus on Thailand ~(Part 1)
Symposium etc.
International Activities
Logistics
Upload a Seminar Recording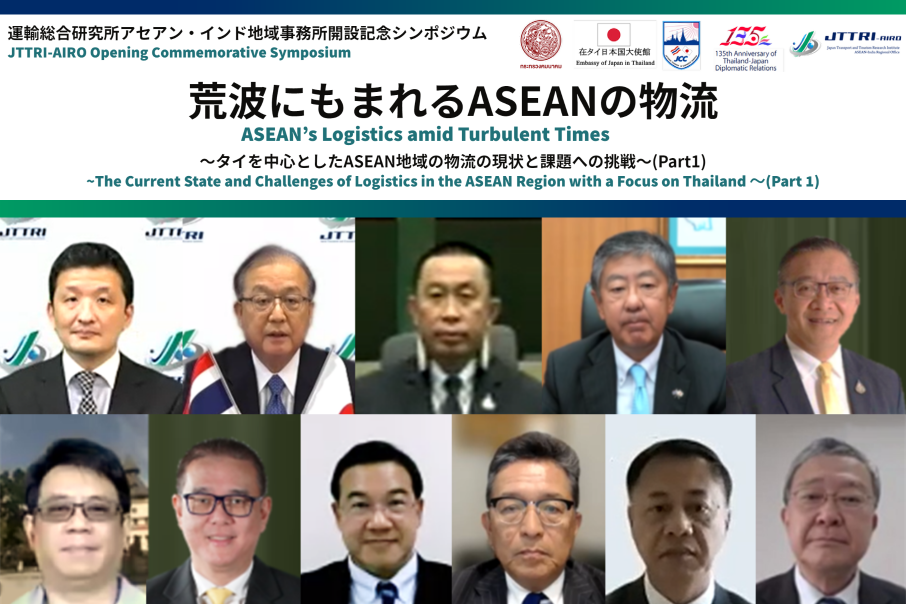 Date / Time
Wed, Jun 15,2022
Venue
Online (Zoom Webinar)
Theme
Opening Remarks:
SHUKURI Masafumi, Chairman, Japan Transport and Tourism Research Institute (JTTRI)

Greeting from Guest of Honor:
Saksayam CHIDCHOB, Minister of Transport Thailand
NASHIDA Kazuya, Ambassador Extraordinary and Plenipotentiary of Japan to the Kingdom of Thailand

Special Lecture:
Chayatan PHROMSORN, Permanent Secretary of Ministry of Transport Thailand
"Regional Logistics Development -Challenges and Opportunities for Thailand-"

Lecture:
SHIBASAKI Ryuichi, Associate Professor, Resilience Engineering Research Center, School of Engineering, the University of Tokyo
"ASEAN region in the context of global logistics"

Lecture:
TOKONAMI Kiyoshi, Chairman of Transport Division, Japanese Chamber of Commerce, Bangkok
"Responding to Logistics Issues in Thailand -Contents of Dialogue with the Thai Government-"

Panel Discussion and Q&A
<Moderator>
Chackrit DUANGPHASTRA, Associate Professor of Commerce Department, Chulalongkorn Business School, Chulalongkorn University

<Panelist>
Punya CHUPANIT, Director General of OTP Ministry of Transport Thailand
Ruth BANOMYONG, Dean of Department of International Business, Logistics and Transport, Thammasat University
Udorn KONGKAKATE, Chairman, Logistics & Supply Chain Sub-Committee, the Federation of Thai Industries
SHIBASAKI Ryuichi, Associate Professor, Resilience Engineering Research Center, School of Engineering, the University of Tokyo
TOKONAMI Kiyoshi, Chairman of Transport Division, Japanese Chamber of Commerce, Bangkok
             
Closing Remarks:
OKUDA Tetsuya, President, ASEAN-India Regional Office, Japan Transport and Tourism Research Institute
Event Summary
Due to the influence of COVID-19, the global economy has fluctuated significantly, and international logistics has changed dramatically in that there are obstacles in supply chain and changes in production bases. Regarding the logistics in ASEAN region, which is also suffering from such rough waves, we grasp the current situation and discuss the emerging issues and challenges mainly in Thailand, with introducing the transportation infrastructure development plan including the "Land Bridge" in the Southern Economic Corridor (SEC) and referencing cases from all over the world.
※Please be careful as acts such as recording may violate copyright laws.
Recording Distribution Service (Uploading period:~23/04/11)
When using this service, please read the following terms of use and use it only if you agree to them.
Copyright
The copyright for the contents of this website (text, photographs, images, sound, graphics, etc.) and their arrangement and editing belongs to the creator and the Japan Transport and Tourism Research Institute(JTTRI).
Unauthorized use, reprinting, modification, or commercial use of these materials is strictly prohibited.
Disclaimer
Although the Institute operates with the utmost care related to the information posted on the Recording Distribution Service, it does not guarantee the complete accuracy of the Service. The Institute shall not be liable for any trouble, loss, or damage caused by the contents posted on the service or by the use of them.
Please note that the Institute may change the information posted on the service without prior notice, or may suspend or discontinue the service.
(English Version)
(Thai Version)
Program of the seminar is as the following
Opening Remarks

SHUKURI Masafumi
 Chairman, Japan Transport and Tourism Research Institute (JTTRI)

bio

Greeting from Guest of Honor

Saksayam CHIDCHOB
 Minister of Transport Thailand NASHIDA Kazuya, Ambassador Extraordinary and Plenipotentiary of Japan to the Kingdom of Thailand

bio

Greeting from Guest of Honor

NASHIDA Kazuya
 Ambassador Extraordinary and Plenipotentiary of Japan to the Kingdom of Thailand

bio

Special Lecture
lecture
lecture
Panel Discussion and Q&A


<Moderator>
Chackrit DUANGPHASTRA, Associate Professor of Commerce Department, Chulalongkorn Business School, Chulalongkorn University

       bio

<Panelist>
Punya CHUPANIT, Director General of OTP Ministry of Transport Thailand

       bio


Ruth BANOMYONG, Dean of Department of International Business, Logistics and Transport, Thammasat University

       bio


Udorn KONGKAKATE, Chairman, Logistics & Supply Chain Sub-Committee, the Federation of Thai Industries

       bio


SHIBASAKI Ryuichi, Associate Professor, Resilience Engineering Research Center, School of Engineering, the University of Tokyo



TOKONAMI Kiyoshi, Chairman of Transport Division, Japanese Chamber of Commerce, Bangkok


Closing Remarks

OKUDA Tetsuya
 President, ASEAN-India Regional Office, Japan Transport and Tourism Research Institute

bio