JTTRI International Seminar on Railway and Area Development in Manila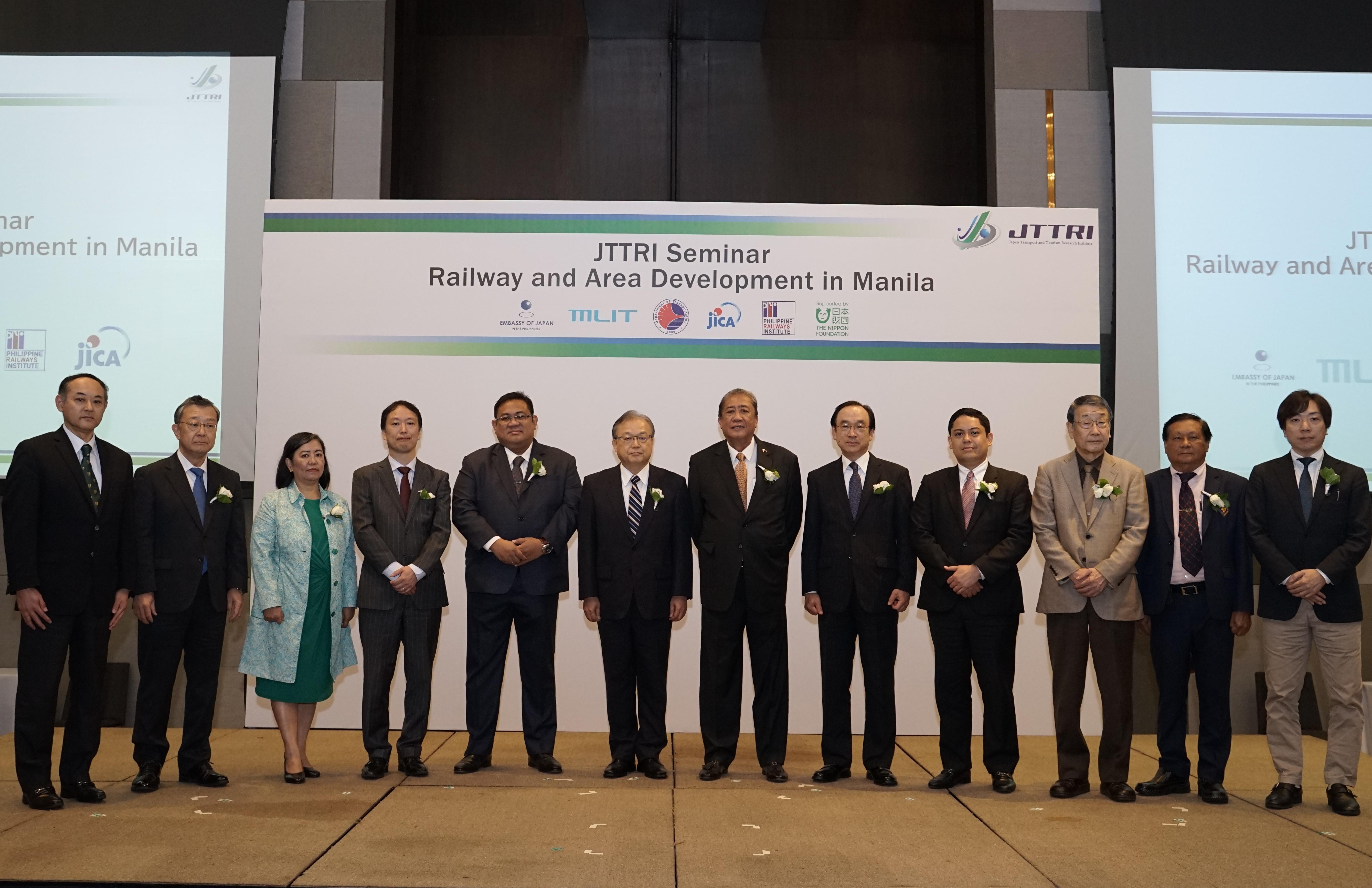 Organizer
Japan Transport and Tourism Research Institute (JTTRI) 
Sponsorship
Ministry of Land, Infrastructure,Transport and Tourism (MLIT-Japan)
Embassy of Japan in the Philippines
Republic of the Philippines Department of Transportation(DOTr)
Philippine Railway Institute(PRI)
Japan International Cooperation Agency (JICA) 
Date / Time
Wed, Feb 12,2020 9:00~12:05
Venue
Ballroom 1, 2 nd Fl, New World Makati Hotel (Manila)
Theme
Railway and Area Development in Manila
Lecturer
Opening Remarks:
 Masafumi Shukuri, Chairman, Japan Transport and Tourism Research Institute (JTTRI)

Honorable Guest Remarks:
 Arthur P. Tugade, Secretary of Transportation
 Koji Haneda, Japanese Ambassador to the Philippines
 Junn B. Magno, General Manager, Philippine National Railways
 Yasaburo Hikasa, Assistant Vice-Minister, Minister's Secretariat, MLIT, Japan

Keynote Speech:
 Shigeru Morichi, Director of Policy Research Center, National Graduate Institute for Policy Studies (GRIPS)
         JTTRI Advisor for Research

Presentation:
 Masai Muto, Senior Research Fellow, Japan Transport and Tourism Research Institute (JTTRI)

Panel Discussion:
Moderator:
 Naohiko Hibino, Associate Professor, National Graduate Institute for Policy Studies(GRIPS)
Panelists:
 Timothy John R. Batan, Undersecretary for Railways, DOTr
 Shigeru Morichi, Director of Policy Research Center, GRIPS
         JTTRI Advisor for Research
 Primitivo C. CAL, Professor, University of the Philippines

Closing Remarks:
 Tetsuya Okuda, Executive Director,Japan Transport and Tourism Research Institute (JTTRI)
Event Summary

 In metropolises in ASEAN countries which are confronted with various problems such as road congestion and environmental pollution, railway development projects have been moving forward. In Manila, projects of the Metro Manila Subway and other Mass Rapid Transit Lines are also moving forward. For the sustainable railway development, it is effective to comprehensively consider railway development and development of areas along the railways, and Japan has much knowledge and experience of such railway development and railway area development.
 In this seminar, followed by greetings from the Chairman of JTTRI, Masafumi Shukuri, H.E. Arthur P. Tugade, Secretary of Transportation of the Philippines, gave greetings, expressing appreciation to the Japanese government and stakeholders for assistances in railway development, and expressed the importance of further cooperation and cooperation between the two countries. H.E. Koji Haneda, Japanese Ambassador Extraordinary and plenipotentiary of Japan to the Philippines, Mr. Junn B. Magno, General Manager of the Philippine National Railways, and Mr. Yasaburo Hikasa, Assistant Vice-Minister, Minister's Secretariat, MLIT, Japan, gave guest greetings.
 In the first half, Professor Shigeru Morichi, Director of Policy Research Center, National Graduate Institute for Policy Studies (GRIPS), gave a keynote speech and Dr. Masai Muto, Senior Research Fellow reported on his research.
 In the second half, a panel discussion was held, with Atty. Timothy John R. Batan, Undersecretary for Railways, Philippine Department of Transportation, Dr. Primitivo C. Cal., Professor, University of the Philippines, Professor Shigeru Morichi, as panelists, and Dr. Naohiko Hibino, Associate Professor of National Graduate Institute for Policy Studies, as a moderator. They discussed issues and prospects for the railway and area development in Manila.
Program of the seminar is as the following
Opening Remarks
Honorable Guest Remarks
Honorable Guest Remarks
Honorable Guest Remarks
Honorable Guest Remarks
Keynote Speech
Presentation
 
Moderator

Naohiko Hibino
Associate Professor, National Graduate Institute for Policy Studies(GRIPS)

Panelists
Panelists

Shigeru Morichi
Director of Policy Research Center, National Graduate Institute for Policy Studies (GRIPS)
Advisor for Research, Japan Transport and Tourism Research Institute (JTTRI)

Panelists
Closing Remarks
Outline of the seminar
 Pofessor Morichi explained why the TOD is necessary in the metropolises in Asia, the problem of incorporating the value capture into the financial resource of railway development, the importance of improving the accessibility to stations by creating the densely network of urban railway, what to learn from the failures of PPP implementation in Asian railway projects.
 Next, Dr. Muto introduced good examples of railway and area development cooperation in Japan, the method of development-based land value capture in Japan and overseas for securing financial resources for railway development, and introduced the characteristics and functions of urban railways in the Tokyo Metropolitan area. Moreover, he reported issues on the railway development and the direction of TOD in Manila.
[Points from Keynote Speech by Professor Shigeru Morichi, Director of Policy Research Center, GRIPS]
 ・There are various types of value captures, such as taxes, bonds, fees, and urban redevelopment schemes, so the implementation of TOD has the
  potential to increase the values.
 ・In ASEAN countries, development along railway lines has been limited. The reason is the weakness of the TOD system.
  I'd like to recommend institutional reforms such as improvement of the urban planning system and a mechanism to form consensus with the residents.
[Points from Report by Dr. Masai Muto, Senior Research Fellow, JTTRI]
 ・In the TOD of Toukyu Den-en-toshi Line in Japan, residential area development along the railway line progressed, the number of railway passengers
  increased, and the land prices also rose. Behind this is the facts that Japan was in a period of high economic growth, and the railway company strongly
  promoted urban development plans through unified brand concepts.
 ・From the examples of land value capture such as beneficiary charge, the sale of air rights, etc., they have been proven to be an effective method to
  raise funding for the investment during the early stage of railway development.
[Points from Panel Discussion]
 Discussions were held on urban railway and area development in Manila, regarding the issues and prospects.
 First, Undersecretary for Railways, Atty. Batan reported on the current status of railway project planning, financing, entities, etc. in connection with the Philippine infrastructure policy 'Build, Build, Build'. On the other hand, Professor Cal pointed out an issue for railway development in Manila that although a master plan was prepared, it was oriented to short-term measures, and the lack of an organization that supervise them for the entire metropolitan area. Professor Morichi also pointed out that along with network development, it is important to improve the station plaza as a node between railway and feeder transportation, and the necessity of coordination between the planning and implementation agencies for railway construction and railway area development.
 Next, regarding the financial resources for the promotion of railway plans in Manila, Atty. Batan indicated the policy of spending by the government, private expenditure, international financing such as ODA, and land value capture. In particular, he showed an example of land value increase in MRT3 of Manila and pointed out the possibility of land value increase from railway development. In addition, Professor Cal stated that in recent years the legal system has been developed for land acquisition necessary for land value capture, and that purchase at market prices, the covering of expenses such as relocation for target facilities, have also become possible. It was introduced that the rights do not reach more than 50m below the surface of the ground. In addition, the legal framework of transport policy allowing internalization of external effects has been approved by NEDA (National Economic Development Authority) in recent years. Finally, Professor Morichi said that while PPP, which performs urban development along with railway development, is important, it is problematic in that it requires a long time to recover investment, and in many cases business have failed. In some cases, such as the Hudson Yards redevelopment project, which Mitsui Fudosan, while not a railway company, participated as a developer and invested, is a very interesting case, he said.
 In response to questions from participants, discussions were held on environmental protection related to subway development and financial support for private companies. The panel discussion was concluded with moderator Associate Professor Hibino saying, "We wish you a successful TOD in the Philippines."