Current Status and Future Prospects of the U.S. Aviation Industry / COVID-19 and the Aviation Industries in Japan, U.S. and Europe
Colloquium
Aviation and Airport
The 141th Transport Policy Colloquium -Washington Report Ⅸ-(Online)
※Language:Japanese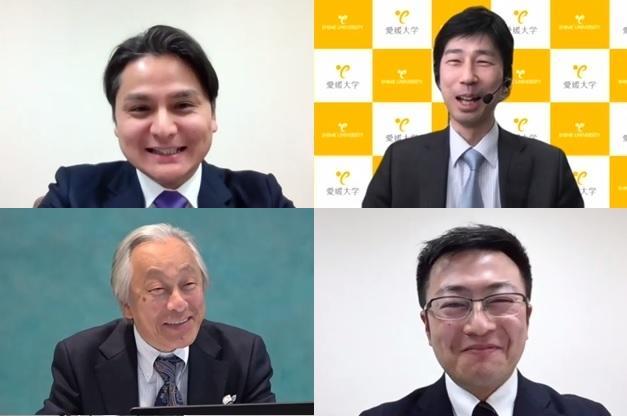 Date / Time
Thu, Mar 04,2021 10:00~12:00
Event Number
The 141st
Theme
Current Status and Future Prospects of the U.S. Aviation Industry / COVID-19 and the Aviation Industries in Japan, U.S. and Europe
Lecturer
Lecturer:NAKAGAWA Tetsuhiro
Senior Representative, Japan International Transport and Tourism Institute, USA (JITTI USA)
TAKAGI Daisuke
Researcher, Japan International Transport and Tourism Institute, USA (JITTI USA)
Commentator:FUKUI Hideki
Professor, Department of Humanities and Social Sciences, Faculty of Law and Letters, Ehime University
- Q&A session -
Moderator:YAMAUCHI Hirotaka
President for Research, Japan Transport and Tourism Research Institute (JTTRI)

Event Summary
The U.S. aviation industry, which was updating its highest passenger demand in history before the COVID-19 pandemic, is in a catastrophic situation. This report firstly explains the state of the U.S. aviation industry before and after the pandemic, based on the result of research on trends in the U.S. aviation industry. Next, we will analyze the impact of the pandemic on the global aviation industry specifically in Japan, the U.S. and Europe. We will share the efforts of the aviation industry, each government, international organizations, etc., and how the aviation industry in "with-corona" era will be. We will also draw up the future outlook of the aviation industry through discussions with Professor Hideki Fukui of Ehime University.
Program of the seminar is as the following
Opening Remarks

SHUKURI Masafumi
Chairman, Japan Transport and Tourism Research Institute (JTTRI)

Remarks(Japanese)

Lecturer
Lecturer
Commentator
Moderator

YAMAUCHI Hirotaka
President for Research, Japan Transport and Tourism Research Institute (JTTRI)

Closing Remarks

YAMAUCHI Hirotaka
President for Research, Japan Transport and Tourism Research Institute (JTTRI)
Outline of the seminar
Tetsuhiro Nakagawa, senior representative of the Japan International Transport and Tourism Institute, USA (JITTI USA) and Daisuke Takagi, researcher at JITTI USA, gave a presentation entitled "Current Status and Future Prospects of the U.S. Aviation Industry/COVID-19 and the Aviation Industries in Japan, U.S. and Europe." The following is a summary of the presentation.

Part 1
・Before the COVID-19 pandemic, the situation of the U.S. airline industry was such that network carriers were building a solid foundation to ensure strong profitability in the domestic market even as they were forced to switch to a business model featuring a variety of pricing options amid intense competition with low-cost carriers (LCCs) including Ultra Low Cost Carriers (ULCC), which were expanding market share. In the international market, a decline in airfares posed a major challenge as competition escalated with Middle Eastern airlines and European LCCs in the Pacific and Atlantic regions.
・As for measures against the COVID-19 pandemic in the U.S., the Coronavirus Aid, Relief, and Economic Security (CARES) Act was enacted in March 2020 to provide payroll subsidies and loss-compensation loans. In December of the same year, the payroll subsidies were extended until the end of March 2021. In this way, a simple but powerful aid package was adopted to cover personnel expenses and provide other necessary funds as a means of ensuring business continuity and employment. On the other hand, it was striking that airline operators were so agile that they were ready to reduce routes and cut jobs if no financial assistance was forthcoming.
・After the COVID-19 outbreak, demand fell most severely in the second quarter of 2020, when the infection rapidly began to spread. In the third quarter, demand recovered somewhat for domestic travel among vacationers and those returning home. It is noteworthy that LCCs did not reduce their services as much as network carriers did. The international market has been devastated, but airlines are seeking to introduce a pre-travel quarantine system as they prepare to resume operations. 
・Perspectives for future prospects are: 1) a strong recovery of the domestic market; 2) network carriers' responses to a decline in business demand; 3) a supply restraint in the international market and the dominance of U.S. carriers; 4) preparatory steps for the re-opening of the international market (pre-travel quarantine and the "vaccination passport"). 

Part 2
・Global passenger traffic had been growing until 2019. However, the number of passengers plunged in 2020 because of the COVID-19 pandemic, falling 60% from a year earlier. A total of 4.5 billion people traveled by air in 2019, but the number fell to 1.8 billion in 2020. 
・In comparison with Japan, which has benefitted from a measure to create domestic travel demand, and the U.S., which has the largest domestic market in the world, the situation is particularly difficult in Europe, where many routes within the region involve cross-border travel. The same goes for airport operators. Meanwhile, some European airlines have been placed under state control and supervision, and they must operate in accordance with government mandates. 
・The governments of various countries and jurisdictions, such as Japan, the U.S., and Europe, are providing financial support and preparing a plan to resuscitate the airline industry. In France, the government offered state aid to Air France on condition that the company implement measures to protect the environment, which is a move that may spur the entire industry to strengthen its environmental initiatives. The trend may also spread to Japan and the U.S., with the result that an "environmentally sustainable recovery" may emerge as a dominant theme. 
・While large-scale financial support is provided to airlines, airport operators see their earnings deteriorate as the number of flights declines and as they themselves provide support in the form of landing-fee waivers, etc. As a result, they face obstacles such as a delay in airport development projects. They may also incur further expenses to strengthen their safety and public-health measures. For this reason, they need additional assistance to ensure business continuity and operational safety. 
・International organizations and industry associations, in an effort to resuscitate the airline industry and accelerate its subsequent growth, are developing a recovery plan and working on a new mechanism to emphasize the public-health aspect of the operations. Under the current situation, however, individual countries, companies, and organizations are pursuing their own initiatives with respect to new immigration and quarantine mechanisms. Going forward, it is hoped that, through cooperation among various stakeholders and under international collaboration, an effort will be made to achieve standardization and create a mechanism for making these disparate systems compatible with one another to maximize the benefits of air travelers. 

Afterward, Professor Hideki Fukui of the Faculty of Law and Letters at Ehime University, the commentator for this event, provided the following remarks regarding the presentation made by Mr. Nakagawa and Mr. Takagi:
-It is an easy-to-understand overview of the current state of the airline industry, which finds itself in an unprecedented situation.
-It provides valuable data at a time when the mere act of collecting and organizing information on the current situation is extremely difficult. 
Professor Fukui elaborated on the major points made by the two researchers in their presentation and provided supplementary information regarding trends in cargo transportation and future business demand. In addition to providing such comments, Professor Fukui also asked the following questions:
・Questions
[Questions regarding Part 1] 
1) What is your outlook regarding U.S. measures against COVID-19 in April and thereafter? 
2) Are LCCs "forcing themselves" to maintain operations because they can use revenue from cargo business to supplement earnings, or because they regard the current situation as an excellent opportunity to take customers away from network carriers? 
3) Why is it that the industry is "optimistic" in the face of a decline in business demand? 
4) What is the current status of discussions regarding the vaccination passport? How about the debate regarding pre-flight PCR testing? 
[Questions regarding Part 2] 
1) You mentioned that European airlines saw a drastic decline in demand. Is it because cross-border travel has been restricted even within the European Union? 
2) What is the current situation regarding state aid to airlines that are not flag carriers? 
3) You mentioned that airport operators relying heavily on international flights were in a particularly difficult situation. What measures could be taken regarding this situation? 
4) What measures could be taken to further support airport operators? 
[Questions regarding the overall presentation] 
○ Are any initiatives being taken in the U.S. or Japan to encourage market entry and competition? 

In response, Mr. Nakagawa and Mr. Takagi provided the following answers:
[Answers to questions regarding Part 1] 
1) The U.S. Congress is discussing additional legal measures to deal with COVID-19. The Democratic Party, the ruling party wants to have the law enacted by March 14. 
2) LCCs' business model is such that they never come up with a timid strategy, regardless of the actions of network carriers. LCCs do not operate cargo business unless they are major companies. 
3) The load factor for network carriers' domestic operations was more than 85%, the saturation point, before the pandemic. Thus, even though demand fell, there is still enough demand to make up for that decline. It appears that those in the industry are of the view that they can ride out the current situation through a sales strategy or yield management. 
4) In the U.S., airlines are taking initiatives on their own. It appears that such efforts will continue to be led by the private sector. The industry strongly opposed the proposal that pre-flight testing be made mandatory by the Centers for Disease Control and Prevention (CDC), and as a result, the issue seems to have become a low profile. 
[Answers to questions regarding Part 2] 
1) Cross-border travel was restricted. European countries also implemented city lowckdowns and travel restrictions that were more stringent than those of other regions. Demand declined further as a result.
2) Norwegian Air Shuttle, an LCC that is undergoing restructuring, is scheduled to receive loans from the Norwegian government as soon as the rehabilitation program is instituted. 
3) The situation remains difficult because vaccination is being delayed worldwide and there are no prospects of recovery in international flights. However, they could continuously make efforts to reduce expenses further and urge the governments of their home countries to provide additional assistance. They could also make preparations so that they will be able to operate airports safely and efficiently without delay when demand for international travel recovers. 
4) Financial assistance could be provided to help airport operators cover their lost revenue by waiving landing fees or providing payment extensions. Another measure would be to provide assistance to help them maintain various facilities and retail operations. 
[Answers to questions regarding the overall presentation] 
○ No efforts were seen in the U.S. or Japan to encourage market entry or competition. In Europe, there were concerns that providing special assistance to any particular company could distort the competitive environment. For this reason, initiatives to encourage competition were a necessary measure to prevent or rectify such a situation in the Europe's case. In the U.S. or Japan, no particular companies received special bailouts. Therefore, no such initiatives were taken. 

Finally, the audience was invited to ask questions. Discussions were carried out regarding relative evaluation of state aid in each country and region, a future recovery trend in travel demand, as well as trends in the digitalization and standardization of COVID-19 testing and vaccination certification and Japan's stance regarding this issue. 

About 520 people, including representatives of research institutions such as universities, officials of the Ministry of Land, Infrastructure, Transport and Tourism, aviation operators, and consultants, participated in this colloquium. It was a successful seminar.