Action for the Implementation of Urban Air Mobility in the United States
Colloquium
Aviation and Airport
New Technology and Innovation
The 140th Transport Policy Colloquium -Washington Report Ⅷ-(Online)
※Language:Japanese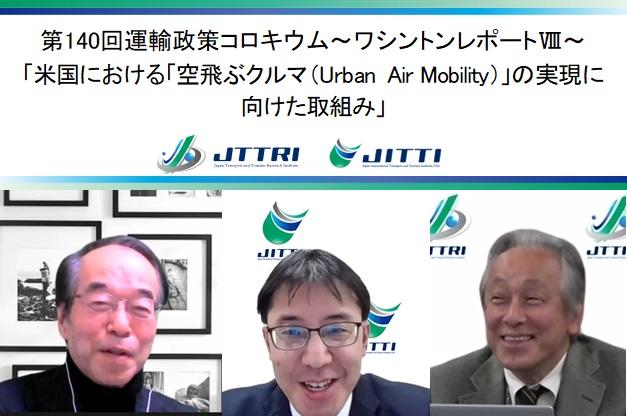 Date / Time
Wed, Jan 27,2021 10:00~12:00
Event Number
The 140th
Theme
Action for the Implementation of Urban Air Mobility in the United States
Lecturer
Lecturer:FUJIMAKI Yoshihiro
Senior Research Fellow, Japan International Transport and Tourism Institute, USA (JITTI USA)

Commentator:SUZUKI Shinji
Project Professor, Institute for Future Initiatives, the University of Tokyo

- Q&A session -
Moderator:YAMAUCHI Hirotaka
President for Research, Japan Transport and Tourism Research Institute (JTTRI)


Event Summary
After the expansion of commercial use of drones (unmanned multi-copters), the technological development and environmental improvement for Urban Air Mobility (UAM) is progressing in several countries. In this colloquium, benefits and issues of UAM, the approaches to safety, security and social acceptance of UAM, the development status of UAS in start-up companies, and the process for the early realization of UAM will be presented and discussed, focusing on the situation of UAS in the United States.


Program of the seminar is as the following
Opening Remarks

SHUKURI Masafumi
Chairman, Japan Transport and Tourism Research Institute (JTTRI)

Remarks(Japanese)

Remarks

YAMAUCHI Hirotaka
President for Research, Japan Transport and Tourism Research Institute (JTTRI)

Lecturer
Commentator
Moderator

YAMAUCHI Hirotaka
President for Research, Japan Transport and Tourism Research Institute (JTTRI)

Closing Remarks

OKUDA Tetsuya
President for International affairs, Japan Transport and Tourism Research Institute (JTTRI)

Remarks(Japanese)
Outline of the seminar
Senior Research Fellow Fujimaki of the Japan International Transport and Tourism Institute, USA (JITTI USA) made a presentation on the theme of "Action for the Implementation of Urban Air Mobility in the United States." The points of the presentation were as follows.

・The biggest reason why Urban Air Mobility (UAM) is attracting attention is the concentration of populations in urban areas around the world. Population concentration in urban areas is higher than it was 30 years ago and is expected to continue increasing. As the populations in these urban areas become more concentrated, traffic will also become more congested.

・UAM aircraft are basically equipped with electric propulsion systems and are also eVTOL (electric Vertical Take Off and Landing), which provides the ability to take off and land vertically given in urban areas the difficulty of constructing new large-scale infrastructure and the need to suppress noise and emissions. In addition, UAM under development is roughly classified into three types depending on the mechanism of the propulsion device for takeoff and level flight: Vectored-Thrust, Llift-and-Cruise, and Multirotor.

・The benefits of realizing UAM include having a transportation network that does not depend on infrastructure for routes, reduction of noise, reduction of CO2 emissions, and reduction of operating costs. On the downside, in order to implement UAM, there are issues that must be considered such as safety, security, the impact on the environment, social acceptance, as well as future widespread use and adaptability.

・To address safety issues, new and revised safety standards are being established by aviation authorities in Europe and the United States, and studies are being conducted by international standardization bodies. NASA in the United States is conducting research on security issues, and to address issues related to social acceptance, NPOs are conducting activities in addition to programs conducted by aviation authorities. In addition, establishment of virtual corridors in the sky called UAM corridors is being considered to address operational issues.

・UAM development is being carried out mainly by venture companies, and development of Vectored-Thrust, Lift-and-Cruise, and Multirotor type aircrafts are underway. Major aircraft manufacturers Boeing and Airbus are also working on developing UAM. In these preceding development projects, test flights and demonstration flights are being widely carried out outside the countries developing the technology.

・For early realization of UAM, in the United States, securing of locations for test flights and implementation of projects are being carried out by the government, military, and industry. However, there is a difference in direction between NASA's project and that of Uber, and it has been pointed out that there is a lack of a master plan that defines the future vision of the country and how to go about achieving it. For this reason, pilot implementation in a few regions may be achieved at an early stage, but full-scale adoption across a wide range of regions may be delayed.

・There are other pioneering developments that tend to be set as goals, but it is important at this early stage to instead ensure safety and social acceptance and consider how to establish a positive chain for widespread dissemination of this technology. In order to achieve widespread dissemination at this early stage, additional efforts to improve social acceptance are required, such as coordinating among stakeholders, making steady progress in areas other than densely populated areas, and establishing guidelines on noise.

After this, the commentator, Project Professor Suzuki, Institute For Future Initiatives, University of Tokyo gave the following description and raised a few questions.

・The history of flying cars goes back to Aerocar, whose designs started in 1946. Most recently, Terrafugia in the United States and Aeromobil in Slovakia have been developing aircraft with wings.

・In addition, helicopters are used as small personal aircraft. Helicopters are also used for medical emergencies, but the areas that can be reached within 15 minutes is only about 60% of Japan's geographical area.

・Furthermore, drones which people can board, derived from small unmanned multicopters, are under development.

・In contrast to a vehicle on land, a helicopter needs to lift and support its own weight, and therefore requires about twice the engine output. Also, between existing helicopters and multirotor UAMs, there are large differences in flight time and cruising range.

・In order to increase the cruising range of a UAM aircraft, it is necessary to equip UAM aircraft with wings, but since this will also increase the weight of the aircraft, it is necessary to develop the aircraft in accordance with the application. Moreover, to further increase the cruising range, it is necessary to hybridize the power instead of relying on battery power.

・In addition, reduction of CO2 emissions is required to counter global warming. For this reason, the development of hydrogen-fueled aircraft is also underway. However, from the viewpoint of energy consumption (per unit mass per unit distance) of each means of transportation, as speed is increased, from low-speed ships to railways and, at speeds of 300 km/h or more, airplanes are more superior. At low speeds, helicopters and multirotor aircraft are inferior to cars in terms of energy efficiency, but they also need to be compared with cars in heavy traffic.

・For the social implementation of UAM aircraft, a "Roadmap towards Air Transportation Revolution" has been formulated, which outlines a policy to gradually expand the use of flying vehicles by first "transporting goods", then "transporting people in rural areas", and finally "transporting people in urban areas".

・ Questions

① Up to now, the United States has regarded UAM as a major goal in aviation development, but are there any major changes to its policy due to the coronavirus situation and the change in government administration?

② Are there any plans to develop a new airport infrastructure as a UAM aircraft takeoff and landing site? Or will existing heliports and airports be used?

③ In order to make steady progress in areas other than densely populated areas, cooperation with local governments is required. Are there any such plans in place already?

Senior Research Fellow Fujimaki's answers to these questions were as follows.

① NASA and the Air Force have begun projects which will span the next few years, and since electric aircraft, including UAM aircraft, can contribute to environmental measures, we believe that there will not be any significant changes to this current direction.

② At the initial stages, we expect existing heliports to be used. Meanwhile, FAA's airport division has been informed that new guidelines for UAM takeoff and landing sites are being prepared internally.

③ In the NASA project, participation from the community is expected in the future, but at the moment there are no participants from the designated community.

In the end, we took questions from viewers and had further discussions about our relationship with automobile development companies, the development situation in Japan, the situation with venture companies, battery performance, aircraft safety, pilot qualifications, etc.

With about 440 participants from research institutes such as universities, government offices, and aviation-related businesses, this colloquium was a great success.