U.S.- Japan International Exchange and Tourism Symposium 2023
Rebuilding and strengthening exchange and tourism between the U.S. and Japan in the post-pandemic period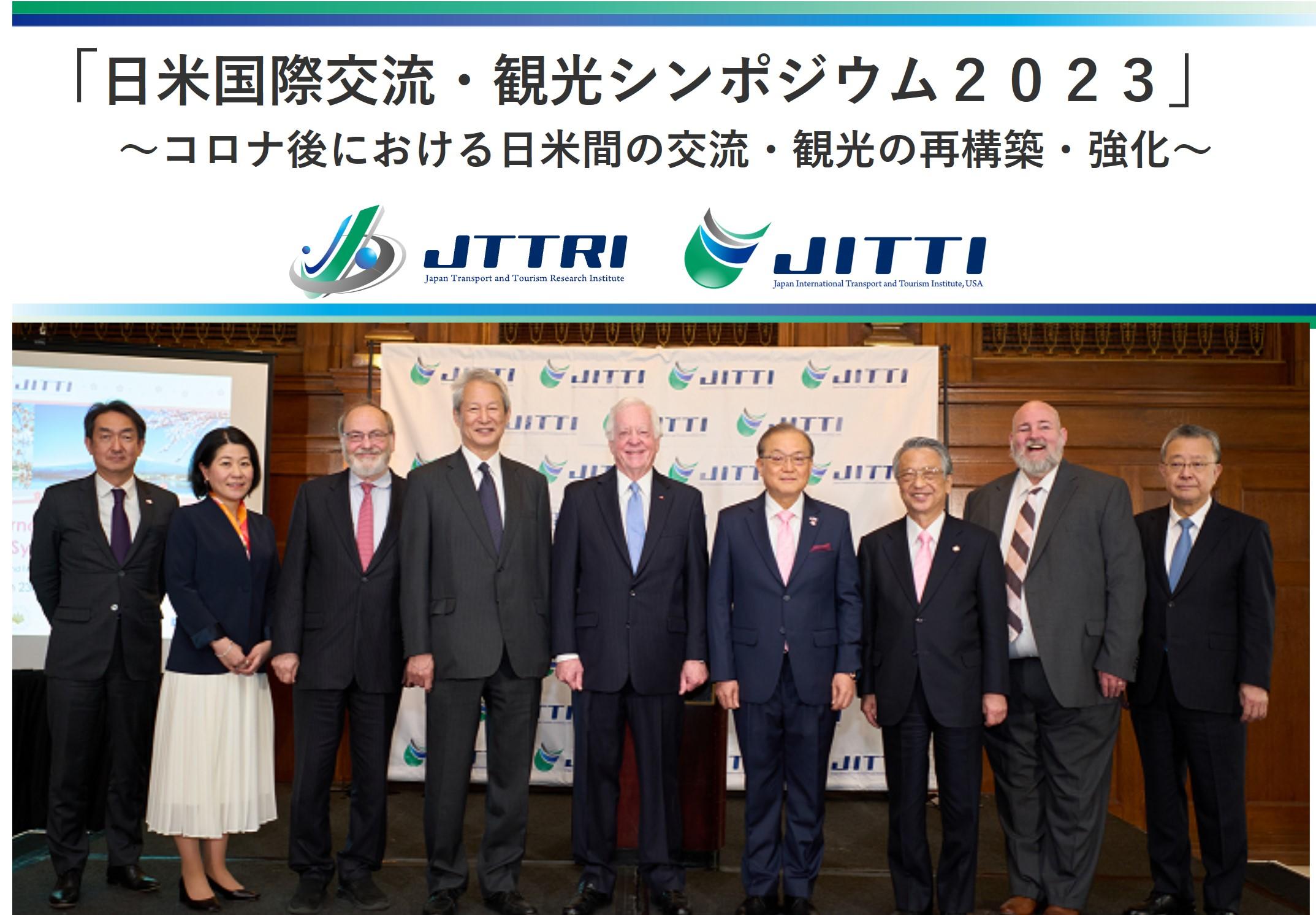 Date / Time
Fri, Mar 24,2023 4:00~ 7:00 AM(JST)
Thu,Mar 23,2023 3:00~ 6:00 PM (EST)
Venue
Willard InterContinental Hotel (1401 Pennsylvania Avenue NW, Washington, DC 20004, USA) (Zoom Online Webinar is also available)
Language:Japanese/English Simultaneous Translation
Theme
Opening Remarks:Masafumi SHUKURI
Chairman, Japan International Transport and Tourism Institute, USA (JITTI USA)
Chairman, Japan Transport and Tourism Research Institute (JTTRI)



Greetings by Guest of Honor : Koji TOMITA
Ambassador of Japan to the United States



Keynote Speeches: J. Thomas SCHIEFFER
Former Ambassador of the United States to Japan
Takashi SHIRAISHI
Chancellor, Kumamoto Prefectural University
Former President, National Graduate Institute for Policy Studies



Lectures: Kent CALDER
Director, Edwin O. Reischauer Center for East Asian Studies,
Johns Hopkins School of Advanced International Studies
Satoshi SEINO
President, Japan National Tourism Organization (JNTO)



Panel Discussion:
<Panelist>
Mark KEAM
Deputy Assistant Secretary for Travel and Tourism, Industry and Analysis, U.S. Department of Commerce
(Curt COTTLE, Senior Policy Analyst, National Travel and Tourism Office, U.S. Department of Commerce, participated in the panel discussion in the place of Mark KEAM.)
Koichi AI
Minister,Embassy of Japan in the U.S. (General Affairs,Public Information and Culture)
Kazuyo KATO
Executive Director, Japan Center for International Exchange, USA (JCIE USA)

<Moderator>
Kent CALDER

Event Summary
JITTI ,USA Homepage
Program
Program of the seminar is as the following
Opening Remarks
Greetings by Guest of Honor

Koji TOMITA
Ambassador of Japan to the United States

Keynote Speeches
Lectures
Panel Discussion

<Panelist>
Mark KEAM
Deputy Assistant Secretary for Travel and Tourism, Industry and Analysis, U.S. Department of Commerce
bio
(Curt COTTLE, Senior Policy Analyst, National Travel and Tourism Office, U.S. Department of Commerce, participated in the panel discussion in the place of Mark KEAM.)

file

Koichi AI
Minister,Embassy of Japan in the U.S. (General Affairs,Public Information and Culture)

bio

Kazuyo KATO
Executive Director, Japan Center for International Exchange, USA (JCIE USA)

bio
file                  

<Moderator>
Kent CALDER
Outline of the seminar
1. Greetings by Guest of Honor
Koji TOMITA, Ambassador of Japan to the United States
・As the Ambassador of Japan to the United States serving as a bridge between Japan and the United States, I have taken every opportunity to visit cities and regions across the United States and interact with as many people as possible. I recently visited Hawaii where I discussed with the governor and business leaders the significance of the tourism industry. Tourists from Japan are slowly coming back to Hawaii, but the numbers are still only 20% to 25% of what they were before the pandemic. I am a firm believer in the importance of actually visiting places, meeting people, and experiencing history and culture firsthand as it can be a transformative experience, so I'd like to continue to support the recovery and development of international exchange and tourism between the United States and Japan.
・The Japanese government announced a policy package called "Open the Treasure of Japan!" aimed at a full-fledged recovery of inbound tourism. In this project, the public and private sectors are working together to expand tourism through projects that enable visitors to fully experience Japan's nature, history, and culture. While this project is aimed at building mutual trust, understanding, and collaboration, tourism can help cultivate human connections that are crucial for further developing US-Japan relations.
・Russian aggression in Ukraine challenges the very foundation of the international order and unilateral attempts to change the status quo by force in the Indo-Pacific region are causing a rise in geopolitical tensions like never before. The US-Japan alliance marked by shared strategic interests and universal values is a critical part of global efforts to address these challenges, and I believe that, by deepening US-Japan exchanges across various fields and channels, we can make this alliance even stronger.
・Tourism plays an important role in this endeavor. So, it is my sincere hope that this symposium will help deepen our cooperation in the promotion of tourism, thereby contributing to the further development of the US-Japan partnership.
2. Keynote Speeches
(1) J. Thomas SCHIEFFER, Former Ambassador of the United States to Japan
・It seems as though we are finally emerging from the worst pandemic in more than 100 years. Wealth inequality accelerated during the pandemic with more of our citizens, particularly those in rural areas, feeling left behind in places with less access to the digital world, shrinking job opportunities, and out-of-date work skills.
・While it once appeared that democracy seem to be in the ascendance all over the world, by the time of the pandemic, however, authoritarians began to argue that democracy could no longer deliver when it came to governing. It seemed as if toxins of another virus---extremism, polarization, violence---were infecting the body politic. Along with millions of others around the world, Americans watched in horror as hooligans stormed the United States Capital to prevent the peaceful transfer of power. That had never happened in the history of the United States. It was disheartening to most Americans and citizens of the world.
・Today, people worry that they will wake up one morning and their job will be gone. They do not often realize that their old job just no longer exists as a result of advances in technology. This is because technology is not only continuing to take away jobs, but technology and innovation are continually creating new jobs that no one had ever imagined before. It is clear that Americans left rural areas for the new jobs and opportunities that technology created in the cities and, as a result of their migration, their economic condition improved.
・Putin's war in Ukraine has given pause to Xi Jinping's thoughts of moving against Taiwan. It is pretty clear now that Chinese aggression will be met with a free world response that could impact the long-term ambitions of China severely.
・The economic challenges we face are just as important as the security challenges we face. We must be part of a global effort to transition from carbon-based energy to clean energy. A month or so ago, I went to Houston, the energy capital of the world. The business and political leaders of that city are not just looking at oil and gas for their energy, but also wind, solar, hydrogen, carbon sequestration, and everything else that may be coming down the road. New opportunities in energy are already popping up, and new opportunities in new jobs are opening up. People may need more education to qualify for those jobs, but we can handle that. Education has always been and always will be the ladder up for social mobility and, if we will continue to value it's worth, we can continue to expand those opportunities.
・We are at a turning point in history today. There is much to do in many places, and we have the opportunity to do it. Hopefully, we will leave this symposium excited about our future and excited that a new day, a better day, is on the way.
(2) Takashi SHIRAISHI, Chancellor, Prefectural University of Kumamoto
Former President, National Graduate Institute for Policy Studies
・Since Prime Minister Kishida came to power in 2021, he has made a series of important decisions on a number of strategic issues, emerging technologies and industries, defense and defense industries, cyber, energy, and diplomacy.
・In his first parliamentary speech in October 2021, Prime Minister Kishida promised to come up with a new national security strategy. This strategy is among the three strategic defense documents that were put forth, emphasizing Japan's own capabilities as well as mutual cooperation, and approved by the Cabinet in December 2022, increasing the defense budget by 60% over the coming five years. The new National Security Strategy underlines the crucial importance of a free and open Indo-Pacific region for Japan's security, emphasizes the alliance with the United States as well as de facto allies, Australia and the United Kingdom, toward that end, and the importance of the United States' continued commitment to the security of this region. The key here is that, for the first time, Japan has decided to take charge of its own defense and it expects the United States to be committed to the alliance.
・Economic security in Japanese parlance means that Japan must work with its allies and strategic partners in safeguarding and strengthening investments in emerging technologies that hold the key to national security and industries of the 21st century as well as protecting the integrality and resiliency of supply chains for semiconductors and other products that are vital for Japan's economy and security. It is only after this is achieved that Japan can prevent other countries from exploiting rare resources and supply chain vulnerabilities. Other tasks include reinforcing cyber security for defending infrastructure, and building a system that prevents the theft of intellectual property from private enterprises and universities. The government is also examining the establishment of a new think tank, which is expected to work very closely with United States think tanks in the near future to consider emerging technology investments as well as supply chain vulnerability and integrality. As part of these efforts, the government has provided incentives to establish a consortium of Japanese and United States firms to develop next-generation semiconductor technology and invited TSMC (Taiwan Semiconductor Manufacturing Company) to invest in Japan.
・In line with Japan's defense industrial policy, the government has already agreed to share technology with United States and jointly develop the next generation jet fighter with the United Kingdom and Italy. Agreements on the transfer of defense equipment have been signed with EU and ASEAN nations. The building of a strong defense technology and production base has come to be equated with strengthening Japan's own defense capability. Japan must work with its allies and de facto allies, and support strategic partners to respond to violations of international laws and norms so that situations are deterred, such as Russia's invasion of Ukraine.
・Japan's climate change policy sets out the pledge of reducing CO2 emissions by 46% below 2013 levels by 2030 and the achievement of carbon neutrality by 2050. In consideration of this, the Kishida Administration changed Japan's nuclear energy policy. Japan's energy policy had been underpinned by the S+3E policy, which specifies the four core principles of safety, environment, energy security, and efficiency. However, amid the significantly changing geopolitical situation as relates to energy, Japan has shifted from the S+3E policy to the 2E (energy security and environment) plus SE (safety and efficiency) policy.
・The rise of China together with its increasingly hegemonic behavior together with North Korea's nuclear and missile experiments are already serious security threats. However, it was Russia's invasion of Ukraine that rattled the Japanese public and offered a major opportunity that Prime Minister Kishida seized to significantly change policies in several areas. The Japanese are and remain pacifist, but are now definitely proactive pacifists as former prime minister Abe said. Japan is a frontline state in dealing with China. Japan will abide by international norms and work with its allies, de facto allies, and partners to keep the expansive region from the Pacific to the Indian Ocean free and open. The US-Japan alliance is the cornerstone of this world.
3. Lectures
(1) Kent CALDER, Director, Edwin O. Reischauer Center for East Asian Studies, Johns Hopkins School of Advanced International Studies
・In one of his most important books on US-Japan relations, my mentor, Edwin Reischauer, said, "Japan and the United States face each other, but across the broadest ocean of them all." He was speaking figuratively, but also literally. While the form of Japan-US relations has changed, it has endured.
・I'm sure Edwin Reischauer would say something that we have also realized which is that this relationship has its fragile dimensions. It is a cross-cultural alliance that has economic dimensions, trade conflicts, and so on that can potentially complicate it, and there obviously are new powers emerging in the system. Over the long history of this relationship, we have been able to maintain it. However, we must not forget there is a fragility as well.
・The main subject that I would like to focus on is the role of cultural exchange. The Japan-US alliance has clearly proven itself time and time again in both war and peace across several conflicts. The alliance would not be viable politically without broader understanding given the lack of common historical experience and limited communication across our mutual history. So, cultural exchange, which includes of course sports and travel, plays a key role in that process.
・I have learned from working with many ambassadors and from direct experience how significant cultural exchange is. The activities of the US-Japan Conference on Cultural and Educational Interchange (CULCON) have overseen academic and cultural relations between Japan and the United States. In the United States Embassy in Tokyo, Edwin Reischauer created a cultural affairs minister position, the functions of which have continued to this day.
・The Reischauer Center is also becoming involved in the study of space policy. Those research efforts will move forward with the cooperation of Japan and the United States. This is an important part of the Reischauer heritage. We need to also consider how to keep some of the innovations that will develop at G7 Hiroshima ongoing for the future through multilateral diplomacy.
・The subject of international education is also an important one and we've been looking at how to bring more Japanese students to the United States. The number of Japanese students studying in the United States has sharply declined down to a third of what it was 20 years ago.
・Some of the very interesting and important programs to offset that decline include Japan's Tobitate (Leap for Tomorrow) Study Abroad Initiative, which is a public-private cooperation project involving subsidized overseas study for Japanese young people outward to the world, including, of course, the United States is one of the main elements. It has innovation programs, STEM programs, and art and community service programs. It is very creative, interesting, and promising. The Tobitate Kyoshi Program brings teachers of Japanese language and other areas from Japan to universities and graduate schools in the United States. The Mansfield Fellowship Program has been one of the great successes of US-Japan relations, and there are also Japanese officials now in the United States as part of this program. There is also the JET Programme, of course. A variety of possibilities are available for expanding educational opportunities in the future.
・In conclusion, I come back to the words of Edwin Reischauer once again. Our countries face each other only across an ocean, but it's the broadest ocean of them all. So, what will we do to further narrow that ocean, to transcend that ocean, to move to an era of closer relations between our two countries? I think that's the important challenge and enduring challenge that faces us across the Pacific.
(2) Satoshi SEINO, President, Japan National Tourism Organization (JNTO)
・The pandemic had a significant impact pushing down the number of visitors to Japan. In looking forward now post-covid, the JNTO's future initiatives are based on Sustainable Tourism with a focus on the key areas of Adventure Travel and Luxury Travel. The goals of Sustainable Tourism are protecting and nurturing the local environment, protecting and nurturing local culture, and protecting and nurturing local economies. Adventure travel is travel that involves at least two of the three elements of physical activity, nature, and cultural exchange. In September of this year, the Adventure Travel World Summit (ATWS) will be held in Hokkaido with many travelers expected to participate from countries around the world. In addition, luxury travel emphasizes the pursuit of inspiration and expansion of one's own knowledge through experiences bringing the person in touch with local traditional culture as well as world famous architecture and nature.
・Prior to the pandemic, approximately 50 to 60% of visitors to Japan focused their travel on the Golden Route that extends from Tokyo to Kyoto and then Osaka. I would like to present some other places that I hope people from the United States will see and experience.
・Throughout Japan, there are still today many castles constructed hundreds of years ago that are carefully preserved in addition to Himeji Castle, which was inscribed on the World Heritage List as a cultural site. There are also many onsen hot springs, of which some famous tourism spots are the hot springs where you can see monkeys soaking in waters. There are also many activities that make use of temples, historical sites, as well as local nature and culture.
・I would also like to talk about cherry blossoms in Japan. In Tokyo now, we are also seeing cherry blossoms in full bloom, but you can also enjoy cherry blossoms for a long time across the entire cherry blossom front. In autumn, the color of the leaves changes and this beautiful scenery may be viewed throughout Japan from October to December.
・Blessed with abundant nature, Japan has developed a food culture deeply rooted in each locale. Traditional Japanese Kaiseki cuisine and sushi have always been popular, but, conveyor-belt sushi and ramen restaurants are some of the more reasonably-priced Japanese cuisine that is popular recently.
・Adventure travel experiences include walking along pilgrimage routes, cycling along the Shimanami Kaido, paragliding against the backdrop of Mount Fuji, and rafting. From autumn and into winter, you may enjoy trekking, Kamakura restaurants, as well as other adventure travel experiences unique to Japan.
・We are also planning to expand luxury travel from current programs offering an overnight stay at Ozu Castle in Ehime Prefecture as well as other accommodation opportunities at traditional castles and temples throughout Japan.
・Ever since the JNTO office opened in 1952, we have communicated the diverse appeal of Japan to people of the United States and, similarly, we Japanese have also come to know the charm of the United States as many Japanese people have visited this country. Last year, Prime Minister Kishida visited New York where he promoted Japanese cuisine. For us Japanese people, the United States will always be our most important partner.
4. Panel Discussion: "Significance of people-to-people exchanges and how it is being strengthened and rebuilt"
(1) Koichi AI, Minister, Embassy of Japan in the United States (General Affairs, Public Information and Culture)
・While Japan's Tobitate Study Abroad program is an important initiative supporting Japanese young people in studying abroad, I think that we need to do more to improve access to information, including scholarships and other financial aspects of studying in the United States, because it is more expensive to go to college in the United States in comparison to Japan.
・In terms of cultural affairs, cultural exchange with other countries is the core of international relations, not something that's just optional. Cultural exchange is at the core along with more serious issues of politics and economy.
・The reason why person-to-person exchange between Japan and the United States is seen as so important is obviously that tourism is a major industry that has significant impact on both the national and regional economies, but that is not all. Person-to-person contact leads to a better understanding of the culture of each nation and forges personal friendships. This may be said about any two countries, but it is especially important between countries like the United States and Japan.
・During the pandemic, we got used to working online and negotiating on Zoom, but this was possible because we had already established personal relations in person before the pandemic. Over the pandemic, I realized the importance of meeting people in person. Diplomacy takes commitment in the form of constant care of even the strongest of alliances, and person-to-person exchange is ultimately an integral part of foreign policy. Within that context, cultural exchange is not an optional decorative addition, but is right at the center of any international relations because it nurtures the necessary trust among nations.
・The Japanese Embassy and Consulate Generals conduct various cultural programs. We take every opportunity to promote Japanese culture to the American public. Of course, our principal hope is that many people will visit Japan. Manga, anime, and other pop-culture that has originated in Japan provide a gateway for the younger generation of Americans to take an interest in Japan and even in learning the language. Also, once someone is interested in ikebana, tea ceremony, kabuki, or other aspects of Japanese traditional culture, it fosters an inclination to visit Japan, and we have adopted an approach mindful of that trend.
・In promoting cultural exchange, attractive content is appealing, but it is also important to have museum curators and other experts to serve as a bridge between different cultures. This also applies to academia. In the social sciences, political science, and other fields of study, we still need more scholars with intimate knowledge of Japan.
・There are still many things that we need to do to increase the number of visitors to Japan as well as increase the number of Japanese students studying in the United States. We need to strategically strengthen the US-Japan relationship through opportunities to exchange thoughts with Japanese and American stakeholders.
(2) Curt COTTLE, Senior Policy Analyst, National Travel and Tourism Office, U.S. Department of Commerce, participated in the panel discussion in place of Mark KEAM, Deputy Assistant Secretary for Travel and Tourism, Industry and Analysis, U.S. Department of Commerce
・In June 2022, the U.S. Department of Commerce announced the 2022 National Travel Tourism Strategy. The travel and tourism industries were hit hard by the pandemic, so a national strategy was regarded as necessary.
・The Strategy consists of four pillars as well as individual strategies and actions that are being implemented to let people around the world know about the United States as a travel destination. The first pillar is "promoting the United States as a travel destination." We need to think about how US travel policy can achieve greater efficiency and to whom appeals should be communicated. In 2028, the Olympics are scheduled to be held in the United States, so we would like to focus efforts on that. The second pillar focuses on technology and is "facilitating travel to and within the United States." Through this, the goal is to make it safer and more efficient for visitors to enter and travel within the United States. The third pillar is "ensuring diverse, inclusive, and accessible tourism experiences." Diversity and inclusivity fit not just the priorities of the Department of Commerce, but also the entire administration, and we hope to realize these goals together with a variety of partners. We also need to emphasize stewardship and nature preservation so that tourists will also find their way equitably to places hit by the pandemic as well. The fourth pillar is "fostering resilient and sustainable travel and tourism." The keywords here are resilience and sustainable. We really need to think about how to get communities to address and prepare for disaster response. In addition, we also need to consider eco-tourism.
・It is important that this strategy be implemented with a "whole-of-government" approach. Of the 114 actions, 69 are already being worked on in the first year of the strategy's implementation. It is unfortunate that the number of tourists between the US and Japan decreased, but it is important that we continue a dialogue and travel and tourism teams, in particular, need to work together as partners.
(3) Kazuyo KATO, Executive Director, Japan Center for International Exchange, USA (JCIE USA)
・JCIE USA is a non-governmental organization that works to strengthen US-Japan relations as well as collaborate on shared challenges. Even in 2023 and beyond, we need to think about how we can ensure that US-Japan relations remain strong into the future.
・JCIE USA promotes mainly two types of programs. The first type is for investing in the future and deepening understanding, of which a leading example is the US Congressional Staff Exchange. This program takes a bipartisan group of congressional staff to Japan to study US-Japan relations. The program currently has more than 210 alumni.
・The second type of program focuses on promoting collaboration on shared challenges. For many years, these have focused on four main areas, specifically global health and human security, healthy and active aging, women's leadership, and democratic resilience. Global health, in particular, has become a prominent issue on account of the pandemic, and the Kishida Administration also set up a task force to address this issue. In addition, through the Hiroshima G7 Global Health Task Force, gender equity was included in the Japan-US Joint Leaders' Statement.
・As a non-governmental organization, JCIE USA's approach focuses on making long-term investments with long-term perspectives, being free and inclusive in exploring areas of collaboration, and seeking diversity of expertise and support.