The 17th JTTRI-KOTI Joint Seminar
~ Carbon Neutrality and Digital Transformation in Transport ~
International Activities
Cooperation
Integrated Transport, Arterial Transport, Urban Transport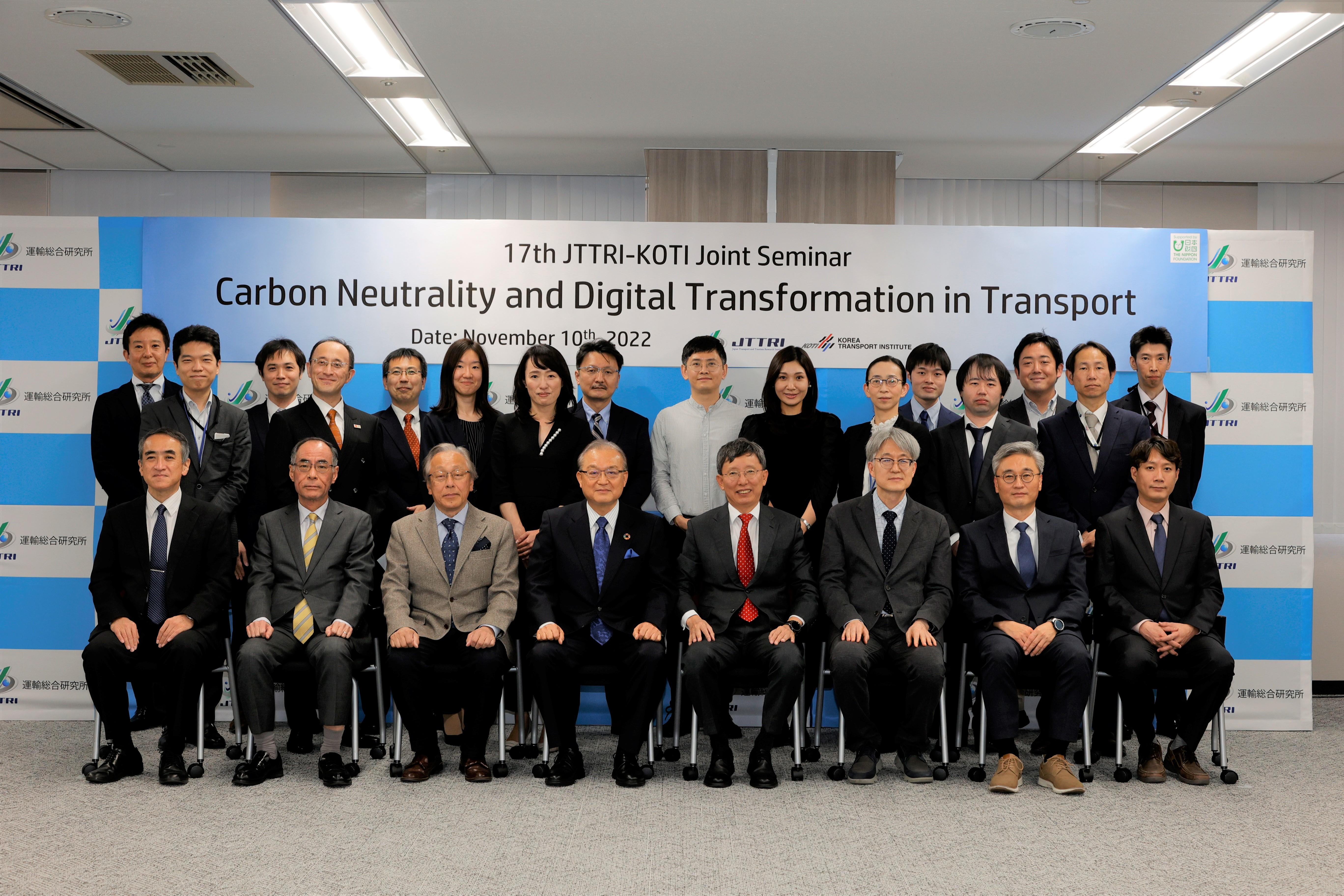 | | |
| --- | --- |
| Date / Time | from Nov 10 to 11, 2022 |
On November 10-11, 2022, JTTRI and Korea Transport Institute (KOTI) held the annual joint seminar, which has been held alternately between the two countries since 1996. For the 17th seminar, KOTI's President Oh and four researchers visited the JTTRI Headquarters.
 In the seminar, JTTRI and KOTI delivered presentations to each other on the theme "Carbon Neutrality and Digital Transformation in Transport" and discussed further research cooperation.
 On the second day, as a technical visit program to learn about urban rail network development, the participants visited the construction site of Eastern Kanagawa Rail Links, which is expected to improve connectivity between the Tokyo and Yokohama areas.
1.Opening Remarks
   Mr. SHUKURI Masafumi (Chairman, JTTRI)
   Dr. Jaehak OH (President, KOTI)
2.Session 1: Carbon Neutrality in Transport
 (Moderator)
   Mr. KANEKO Tadashi (Distinguished Research Fellow, JTTRI)
 (Speaker)
   Dr. Sangwoo PARK (Research Fellow, KOTI):
   Carbon Neutralization Strategy in the Transport Sector - Focus on the Effectiveness of TDM -
 (Speaker)
   Mr. TAKEUCHI Tomohito (Senior Research Fellow, JTTRI):
   Reduction of CO2 Emissions from International Shipping Using Zero or Low Carbon Fuels - Life Cycle Assessment of CO2 Emissions of New Fuels -
3.Session 2: Initiatives for Future Transport – Digital Transformation
 (Moderator)
   Dr. Hee Cheol SHIN (Senior Research Fellow, KOTI)
 (Speaker)
   Mr. FUJISAKI Koichi (Distinguished Research Fellow, JTTRI):
   Recommendations Based on Case Studies in Japan for Sustainable New Mobility Services
 (Speaker)
   Dr. Sunghoon KIM (Associate Research Fellow, KOTI):
   Smart City and Smart Mobility Projects in Korea
4.Review of Sessions 1 & 2 and Discussion for Next Seminar
 (Moderator)
   Mr. SUZUKI Shinya (Research Fellow, JTTRI)
   Dr. Jaehak OH (President, KOTI)
   Prof. YAMAUCHI Hirotaka (President, JTTRI)
5.Closing Remarks
   Dr. Jaehak OH (President, KOTI)
   Mr. SHUKURI Masafumi (Chairman, JTTRI)