Environmental Changes Surrounding Urban Railroads in the U.S. and Strategies for Recovery from the COVID-19 Pandemic
Colloquium
Railways and Railway and Area Development
The 150th Transport Policy Colloquium -Washington Report XIV (Online)
※Language : Japanese


Upload a Seminar Recording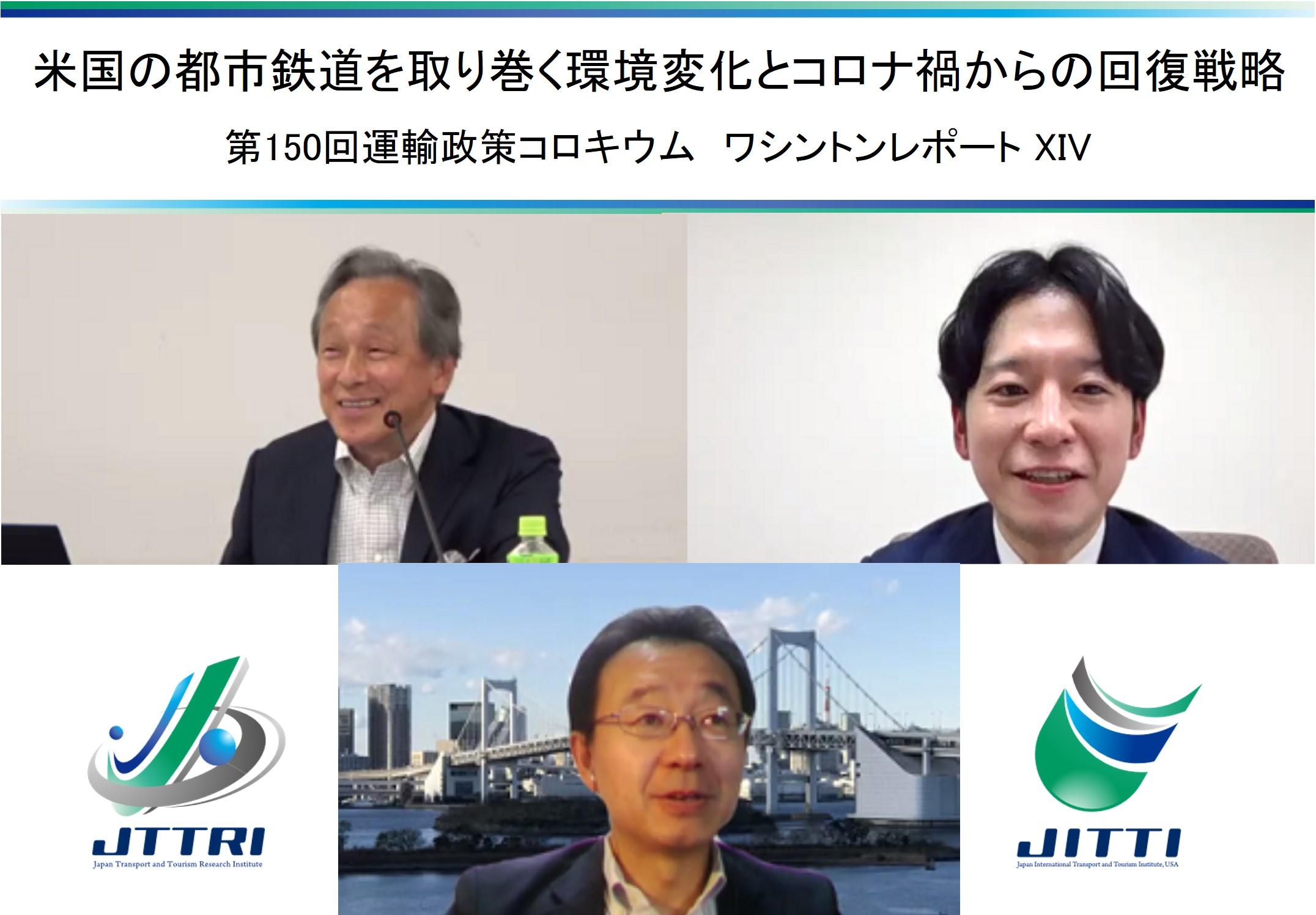 Date / Time
Thu, Apr 14,2022 10:00~12:00
Event Number
The 150th
Theme
Lecturer: OKABE Akito
Research Fellow, Japan International Transport and Tourism Institute, USA (JITTI USA)

commentator: KATO Hironori
Graduate School of Engineering, The University of Tokyo

<Discussion>
Coordinator:YAMAUCHI Hirotaka 
 President for Research, Japan Transport and Tourism Research Institute (JTTRI)
Lecturer
Lecturer: OKABE Akito
Research Fellow, Japan International Transport and Tourism Institute, USA (JITTI USA)

commentator: KATO Hironori
Graduate School of Engineering, The University of Tokyo

<Discussion>
Coordinator:YAMAUCHI Hirotaka 
 President for Research, Japan Transport and Tourism Research Institute (JTTRI)
Event Summary
Passenger transportation in the U.S. is heavily dependent on road transportation, but railroads are expected to be the means of transportation for both environmental measures and economically vulnerable groups, including minorities. However, the business environment of railroads remains challenging due to a gradual decline in the number of users caused by the pandemic and the deterioration of government finances. Developing strategies for urban rail to recover from the pandemic is a key issue among U.S. transportation stakeholders.  In this colloquium, Akito Okabe, researcher at JITTI USA, will give a presentation on the topic of changes in the business environment surrounding U.S. urban railroads and pandemic recovery strategies in the U.S. urban rail industry with specific examples of efforts by operators and others. He will also report on the implications which the U.S. side received from the strategies introduced by Japan's major railroad operators, based on interviews with U.S. railroad officials who participated in the U.S.-Japan Rail Online Conference co-hosted by JTTRI and APTA last December 9. Finally, Professor Kato of the Graduate School of the University of Tokyo, an expert in transportation planning and policy and international project studies, will be invited as a commentator to discuss the implications for Japan that can be drawn from the U.S. side's strategy.
※Please be careful as acts such as recording may violate copyright laws.
Recording Distribution Service (Uploading period:~23/1/13)
When using this service, please read the following terms of use and use it only if you agree to them.
Copyright
The copyright for the contents of this website (text, photographs, images, sound, graphics, etc.) and their arrangement and editing belongs to the creator and the Japan Transport and Tourism Research Institute(JTTRI).
Unauthorized use, reprinting, modification, or commercial use of these materials is strictly prohibited.
Disclaimer
Although the Institute operates with the utmost care related to the information posted on the Recording Distribution Service, it does not guarantee the complete accuracy of the Service. The Institute shall not be liable for any trouble, loss, or damage caused by the contents posted on the service or by the use of them.
Please note that the Institute may change the information posted on the service without prior notice, or may suspend or discontinue the service.
Program of the seminar is as the following
Opening Remarks

SHUKURI Masafumi
 Chairman, Japan Transport and Tourism Research Institute (JTTRI)

Lecturer

OKABE Akito
Research Fellow, Japan International Transport and Tourism Institute, USA (JITTI USA)

commentator

KATO Hironori
Graduate School of Engineering, The University of Tokyo

Discussion

<Coordinator>
YAMAUCHI Hirotaka
President for Research, Japan Transport and Tourism Research Institute (JTTRI)


Closing Remarks

OKUDA Tetsuya
 President for International affairs, Japan Transport and Tourism Research Institute (JTTRI)
 President, Japan International Transport and Tourism Institute, USA(JITTI)
 President, ASEAN-India Regional Office(AIRO)
Outline of the seminar
■Conclusions of the day
We just had a presentation titled "Environmental Changes Surrounding Urban Railroads in the U.S. and Strategies for Recovery from the COVID-19 Pandemic" by Mr. Okabe, Research Fellow at the Japan International Transport and Tourism Institute, USA. The points of his presentation were as follows:
〇Overview of urban railroads in the U.S.
・Urban railroads in the U.S. serve mainly as an environmental measure and as a means of transportation for the economically disadvantaged population who cannot own cars, and the operation is dependent on state and municipal subsidies.
・Unlike in Japan, where the need for public transportation is widely recognized, opinions regarding financial assistance in the U.S. were split along political lines, with Democrats for and Republicans against.
〇Environmental Changes Surrounding Urban Railroads in the U.S.
①Effects of decreased ridership due to Covid
・In March 2020, a national emergency declaration was issued in the U.S., and as lockdowns were implemented in various states, urban rail ridership fell to approximately 10% (compared to the same month in 2019). Subsequent recovery has also been slow, and ridership has been particularly low on commuter rails linking metropolitan areas and suburbs due to the popularization of remote working. Given the serious decline in ridership, the federal government implemented bailout measures such as the CARES Act and American Rescue Plan Act to help keep businesses afloat.
・The Covid pandemic also caused the state governments' finances to worsen, which U.S. urban rail operators had relied upon as an important financial resource to subsidize their operating expenses. Under such circumstances, there have recently been heated debates in state legislature regarding assistance for urban railroads.
・According to an interview with a U.S. think tank specializing in transport policy, if ridership continues to remain low, public transit will face further scrutiny from Republicans, who have been opposed to financial assistance to public transit, and may result in it receiving lower priority for funding.
②Use of financial support from the Biden Administration
・In November 2021, the Infrastructure Investment and Jobs Act was established, which was described as a "historical achievement" in the history of U.S. transportation infrastructure policy. The bill provides a total of 1.2 trillion dollars over five years and includes approximately 550 billion dollars in new spending for infrastructure improvement and maintenance, which have long been issues in the U.S. The amount of new spending allocated for public transportation is 39 billion dollars, which is the largest budgetary amount ever.
・The Federal Transit Administration (FTA) has established the priority areas (public transportation-related) of the Infrastructure Investment and Jobs Act, and the keywords are "safety," "modernization," "climate" and "equity."
・In March 2022, a Legislative Conference was hosted by American Public Transportation Association (APTA). Government officials such as the Secretary of Transportation and FTA Administrator, etc., were invited, and sessions were held regarding the positioning of the Infrastructure Investment and Jobs Act and expectations for operators, etc. Comments from affiliates show that urban railroad operators in the U.S. are at a critical phase where it remains to be seen whether they can use this favorable opportunity to transform railways into a mode of transport that can find favor with riders.
〇Strategies for future recovery
・In November 2021, APTA released a report, "Planning for Post-Pandemic Travel," as a basic concept for future recovery. The content of this plan is centered around "effective implementation of services based on changes in demand," "reinforcement of new initiatives to promote usage in response to changing trends," and "reinforcement of initiatives focusing on fair access to public transport."
・The main initiatives that are being implemented by rail operators, etc., include consideration of flexible fare options and partnerships with urban development. Specifically, there are efforts such as the fare capping pilot program being implemented in New York's subways, and the Equitable Transit-Oriented Development (ETOD) plan, which is being promoted by Chicago in partnership with rail operators, etc.
・In December 2021, APTA and JTTRI cohosted a conference titled "Initiatives for the Recovery from the COVID-19 Pandemic and Strategies to ensure the Resilience by Commuter/Regional Rail companies in the U.S. and Japan." After the conference, interviews were held with U.S. affiliates to see what initiatives presented by the Japanese side were of particular interest to them, in order to understand the U.S. side's recognition of issues and their future strategy. As a result, it was found that there was particular interest in Japan's initiatives regarding "safety measures" and "natural disaster measures," which were also included in the Infrastructure Investment and Jobs Act.
〇Main directionality of European railroad policy
・In December 2019, Europe presented the "Green Deal" as a growth strategy, which aims to achieve net-zero greenhouse gas emissions by 2050. The "Green Deal" is characterized by the promotion of various measures in the context of climate change measures, in order to realize this long-term growth strategy.
・In December 2021, the European Commission released a new transport policy package in order to accelerate the switch to sustainable and smart mobility. Central to this package are the revisions of the infrastructure development plan known as Trans-European Transport Network (TEN-T) and the announcement of a long-distance cross-border railroad plan aimed at accelerating rail use for long-distance travel across borders.
・In the U.K., a franchising system was used for rail operation since the 1990s. However, in May 2021, the "Great British Railways-The Williams-Shapps Plan for Rail" was released, and it was decided to fundamentally review the conventional rail operation methods in order to achieve sustainable rail business management that also looked ahead to the post-Covid era.
〇Summary
・In the U.S., rail ridership, mainly for commuter rails, has decreased due to the Covid pandemic, and ridership has not recovered. If ridership continues to remain low, public transit will face further scrutiny from Republicans, resulting in it receiving less funding from state governments; in other words, public transit services may be scaled back.
・The budget for the next five years has been secured thanks to the passing of the Infrastructure Investment and Jobs Act. The immediate strategy of U.S. urban railroad operators is to draw attention to the importance of railways by advancing measures dealing with "safety," "modernization," "climate," and "equity," which are the priority areas of the Infrastructure Investment and Jobs Act.
・In addition to the U.S. urban rail industry, which is facing a turning of the tide, it is also necessary to pay close attention to policy rends in Europe, and we will continue to conduct cross-sectional studies of the U.S. and Europe into the future.
Next, Dr. Hironori Kato, a professor from Graduate School of Engineering, The University of Tokyo gave the following comments and questions in response to Mr. Okabe's presentation:
Major comments.
・From the presentation, I hypothesize that the impacts of Covid-19 pandemic on urban railroads in the United States are summarized as: (1) a market penetration of work-from-home style among office workers under the Covid pandemic significantly reduced traffic demand of upper-middle income people and led to a decline in public transit operators' profits; and (2) the shortage of public transit operators' profits devastated its service level, which could harm the mobility of low-income travelers.
・I also assume that the expected changes caused by an urban railroad investment in the United States are: (1) large-scale investment in urban railroads will lead to drastic improvement in service frequency and safety; (2) the upgraded service levels of urban railroads will positively change in people's impressions about public transit; and then (3) the people's positive attitude to public transit could enhance traffic demand of urban railroads along with greater understanding with regards to large-scale investment, which could finally result in a start of virtuous cycle in public transit market.
Questions from Professor Kato.
1)The presentation indicated that the keywords in the U.S. Infrastructure Investment and Jobs Act are "safety," "modernization," "climate," and "fairness." In your opinion, does this proposed strategic framework work sufficiently for rehabilitation of urban railroads in U.S.?
2)Do you expect that political conflicts regarding public transit funding similar to U.S could take place also in Japan in the future?
3)Do you think there is any room for Japanese companies to enter into the U.S. urban rail business after the introduction of the Infrastructure Investment and Jobs Act?
Mr. Okabe responded to these questions as follows:
〇Responses
① For the time being, the realistic approach will be to focus on the four keywords and work on rehabilitating urban railroads. Meanwhile, I think in the longer term it would be good to promote urban development that is centered on public transit and to review urban rail operation methods.
② I think conflicts regarding public transit funding will also occur in Japan, particularly in rural areas. Even recently, a study group comprising government officials and operators was established, and discussions that also look at conducting a fundamental review of regional railroads have begun. If the implementation of new mobility services such as self-driving cars advances in the future, there is likely to be further conflict regarding the meaningfulness of public transit.
③ There are already cases of Japanese companies expanding into the U.S. rail businesses in terms of the introduction of rolling stock and train control systems. In addition, some buses and commuter rails have already outsourced their maintenance and operations to foreign companies, so I think there is room for overseas expansion.
Finally, the floor was opened to questions from the audience, and there was a Q&A/discussion session. The main content was as follows:
Q. I want to know how New York's MTA flexibly used the "revenues earmarked for public transit," which is their main source of revenue, in the Covid-19 pandemic.
A. As far as I know, I don't think the revenues were used in a flexible manner.
Q. During the Republican administration, was funding for urban railroad reduced?
A. During the Trump Administration (Republican), there were a lot of arguments against financial assistance for public transit; however, I don't think there were any subsidy cuts.
Q. How do you feel about the safety culture and reliability of public transportation in the United States?
A. Public transit safety has always been an issue in the United States, but I think there will be greater recognition regarding this issue due to the recent New York subway shooting incident. I think that Japan's rail safety measures, which are its strengths, can contribute to resolving this issue in the U.S.
Q. To what extent is demand expected to recover in the post-Covid era? A. At the beginning of this year, the commuter rail operators announced that they expected demand to recover to about 75% of pre-Covid levels in FY2022, but due to the subsequent spread of the Omicron variant, etc., the operators have revised their projections downward.
Q. What is the teleworking situation in the U.S.?
A. In Washington D.C., more and more companies have been asking their employees to return to the office in recent days; however, many companies had adopted remote working policies until this March. I feel that remote working is more well-established in the U.S. compared to Japan.
Q. With regards to the review of the rail operation method that is being reviewed in the U.K., how is the long-standing issue of "lack of coordination between affiliates" going to be resolved with the establishment of GBR?
A. By establishing GBR, there will be even more clarity regarding "the person responsible" for communication, and so if GBR functions properly, it is thought that it will contribute to resolving the issue of "lack of coordination between affiliates."
Q. When considering recent European transport policy, the establishment of the EU recovery fund for the Covid pandemic cannot be overlooked; how do you feel about this fund?
A. I agree that it is important. In particular, this fund allocates a lot of its budget to measures aimed at strengthening resilience, and I think that focusing on the long-term perspective in this manner will serve as a useful reference for the U.S.
(End)