The Latest Trends in UAS Policy in the United States, Edition 2021 - Revision to the regulations for further expansion of use -
Colloquium
Aviation
Innovation
The 143rd Transport Policy Colloquium -Washington Report Ⅺ-(Online)※Language : Japanese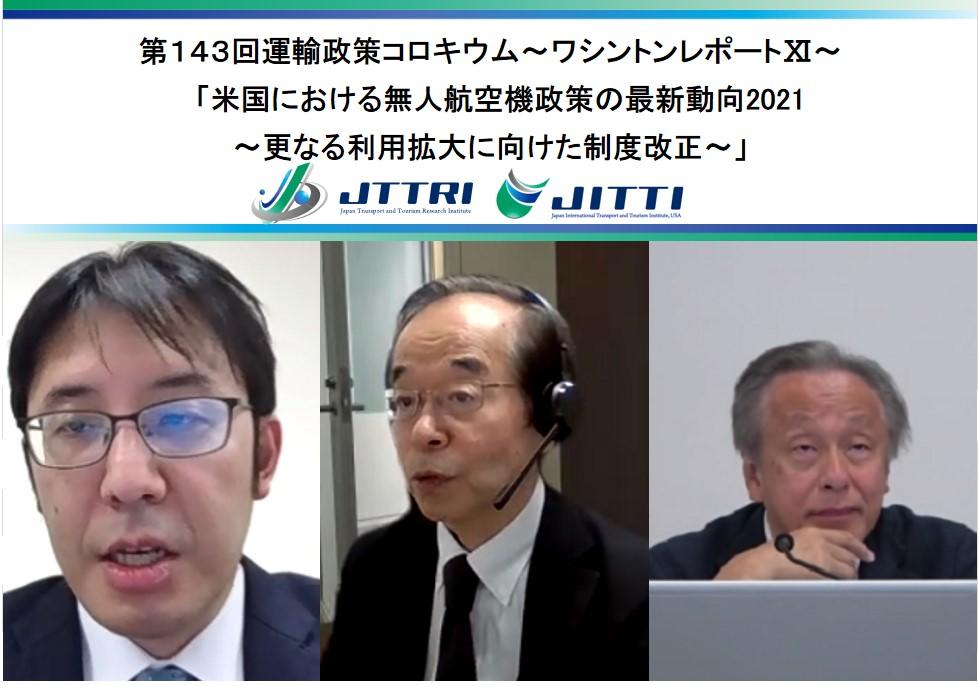 Date / Time
Tue, Sep 21,2021 10:00-12:00
Event Number
The 143rd
Theme
The Latest Trends in UAS Policy in the United States, Edition 2021 - Revision to the regulations for further expansion of use -
Lecturer
Lecturer:FUJIMAKI Yoshihiro
Senior Research Fellow, Japan International Transport and Tourism Institute, USA (JITTI USA)

Commentator:SUZUKI Shinji 
Project Professor, Institute for Future Initiatives, the University of Tokyo

- Q&A session -
Coordinator:YAMAUCHI Hirotaka 
President for Research, Japan Transport and Tourism Research Institute (JTTRI)
Event Summary
Regardless of the COVID-19 pandemic, the use of small Unmanned Aircraft Systems (UAS) for commercial and public purposes continues growing. In order to support the expansion of these uses, revisions to the regulations of UAS operations are underway in many countries. In the US, two important regulations were published in January 2021: one for Remote ID and the other for operations at night and over people.
In this colloquium, as the latest trends in the US, the details of these two new regulations and the trend of revising the regulations to expand the Beyond Visual Line of Sight (BVLOS) operations were presented. After that, Prof. Suzuki of the University of Tokyo's Institute for Future Initiatives, who is a leading expert on aviation innovative technologies including unmanned aerial systems, was invited as a commentator to introduce the regulations in Europe and discuss issues and measures for further expansion of use.
The colloquium was a great success with 446 participants from universities and other research institutes, government offices, and airline companies.
Program of the seminar is as the following
Opening Remarks

SHUKURI Masafumi
Chairman, Japan Transport and Tourism Research Institute (JTTRI)

Lecturer

FUJIMAKI Yoshihiro
Senior Research Fellow, Japan International Transport and Tourism Institute, USA (JITTI USA)

Commentator

SUZUKI Shinji
Project Professor, Institute for Future Initiatives, the University of Tokyo

Coordinator

YAMAUCHI Hirotaka
 President for Research, Japan Transport and Tourism Research Institute (JTTRI)

Closing Remarks

OKUDA Tetsuya
 President for International affairs, Japan Transport and Tourism Research Institute (JTTRI)
 President, Japan International Transport and Tourism Institute, USA(JITTI)
 President, ASEAN-India Regional Office(AIRO)