Financial Support for the Transportation Sector by the US Federal Government Since the Coronavirus Pandemic
The 142nd Transport Policy Colloquium -Washington Report Ⅹ-(Online)
※Language:Japanese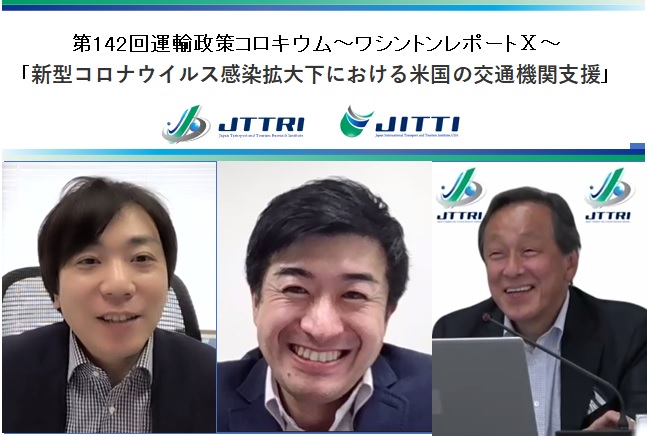 Date / Time
Thu, Jun 03,2021 10:00~12:00
Event Number
The 142th
Theme
Financial Support for the Transportation Sector by the US Federal Government Since the Coronavirus Pandemic
Lecturer
Lecturer:OKIMOTO Shuntaro
Senior Research Fellow, Japan International Transport and Tourism Institute, USA (JITTI USA)
Commentator:HIBINO Naohiko
Professor, National Graduate Institute for Policy Studies(GRIPS)
- Q&A session -
Coordinator:YAMAUCHI Hirotaka
President for Research, Japan Transport and Tourism Research Institute (JTTRI)
Event Summary
In the United States, COVID-19 has been spreading since last March. Both the number of people infected with and died of the virus in the U.S. are the largest in the world, which means that COVID-19 has been having an extremely large impact on society and the economy and in particular, the impact on transportation industry is enormous.
This report compares the impact of the spread of COVID-19 on US transportation (railways, buses, aviation, etc.) with that on Japanese transportation. The report then reveals how the federal government has used existing and new schemes to support transportation, introducing the difference about the way of thinking about the role of public transportation between the United States and Japan and remarks, analytics, articles etc. in the U.S. on the future outlook of the impact of the spread of COVID-19 on society.
The purpose of the report is to provide a perspective on how to solve the problems which the transportation industry and its stakeholders in Japan are facing, by better understanding of the situation in which U.S. public transportation is facing.
Program of the seminar is as the following
Opening Remarks

SHUKURI Masafumi
Chairman, Japan Transport and Tourism Research Institute (JTTRI)

Lecturer

OKIMOTO Shuntaro
Senior Research Fellow, Japan International Transport and Tourism Institute, USA (JITTI USA)

Commentator

HIBINO Naohiko
Professor, National Graduate Institute for Policy Studies(GRIPS)

Coordinator

YAMAUCHI Hirotaka
 President for Research, Japan Transport and Tourism Research Institute (JTTRI)

Closing Remarks

OKUDA Tetsuya
 President for International affairs, Japan Transport and Tourism Research Institute (JTTRI)
 President, Japan International Transport and Tourism Institute, USA(JITTI)
 President, ASEAN-India Regional Office(AIRO)