A Report on Trends of MOD/MaaS in the U.S. Urban Areas
The 139th Transport Policy Colloquium -Washington Report Ⅶ-(Online)
※Language:Japanese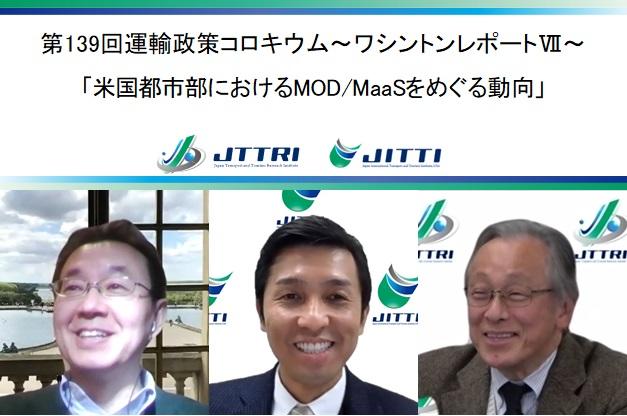 Date / Time
Thu, Dec 17,2020 10:00~12:00
Event Number
The 139th
Theme
A Report on Trends of MOD/MaaS in the U.S. Urban Areas
Lecturer
Lecturer:MIYAMOTO Daisuke
Research Fellow, Japan Transport and Tourism Research Institute (JTTRI)

Commentator:KATO Hironori
Professor, Department of Civil Engineering, The University of Tokyo
Senior Advisor for Research, Japan Transport and Tourism Research Institute (JTTRI)

- Q&A session -
Moderator:YAMAUCHI Hirotaka
President for Research, Japan Transport and Tourism Research Institute (JTTRI)
Event Summary
Recently in the United States, various initiatives such as Mobility as a Service (MaaS) are promoted by local governments, based on the idea of Mobility on Demand (MOD), which is the concept for comprehensively changing the way of movement and system management for people and things. The U.S. Department of Transportation (DOT) defines MOD as "an innovative, user-focused approach which leverages emerging mobility services, integrated transit networks and operations, real-time data, connected travelers, and cooperative Intelligent Transportation Systems (ITS) to allow for a more traveler-centric, transportation system- of-systems approach, providing improved mobility options to all travelers and users of the system in an efficient and safe manner." They believe they can develop MOD for all large urban areas, nearby suburbs, neighboring cities, semi-suburban communities, and rural areas, in a suitable way for the each environment.
This report focuses on urban areas, as they provide the best view to observe "Mobility trends," which have helped to grow people's interest in MOD / MaaS in the U.S. Furthermore, an analysis on the current status of MOD/MaaS and the challenges they face to take effect will be given.

※Please be careful as acts such as recording may violate copyright laws.
Program of the seminar is as the following
Opening Remarks

SHUKURI Masafumi
Chairman, Japan Transport and Tourism Research Institute (JTTRI)

Remarks(Japanese)

Remarks

YAMAUCHI Hirotaka
President for Research, Japan Transport and Tourism Research Institute (JTTRI)

Lecturer
Commentator
Moderator

YAMAUCHI Hirotaka
President for Research, Japan Transport and Tourism Research Institute (JTTRI)

Closing Remarks

OKUDA Tetsuya
Executive Director,Japan Transport and Tourism Research Institute (JTTRI)

Remarks(Japanese)
Outline of the seminar
MIYAMOTO Daisuke, Research Fellow, of the Japan International Transport and Tourism Institute (JITTI), Washington D.C., presented a report titled "A Report on Trends of MOD/MaaS in the U.S. Urban Areas." The main points of the presentation are as follows.
- In the United States, based on Mobility on Demand (MOD), a concept that comprehensively changes the manner in which people and things move and the management systems for this movement, various initiatives such as Mobility as a Service (MaaS) have recently been promoted by local governments across the U.S.
- The U.S. has mainly developed transportation systems for automobiles. However, in the current changeover to sustainable transportation and realization of MOD, the expectations for public transportation to play a major role have been increasing in recent years, particularly in urban areas. These expectations have been spurred by the rapid concentration of the population into urban areas and development of digital technology. This trend would also raise expectations for public transportation and new mobility services.
- The Department of Transportation (DOT) defines MOD as "a multimode transport network that integrates and interconnects various transport service options that anyone can use and that are safe, inexpensive, and highly reliable." Development of distinct types of MOD suitable for the different environments of urban areas and rural areas is expected.
- In DOT's view as given in its Mobility on Demand: Operational Concept Report released by the Intelligent Transportation Systems Joint Program Office under DOT, "MOD and MaaS both focus on user needs. However, MOD is a concept for a new transportation system, and MaaS is a platform which enables seamless provision of such a transportation system."
- In order to identify the trends of MOD/MaaS in the U.S., distinctive urban areas are studied, with New York, Washington, D.C., and Chicago being focused upon in this study. An analysis was performed on the actual conditions and issues. The MOD/MaaS of all these cities are in the initial stage of development, with demonstration tests being performed in the search for solutions. One of the major problems seems to be the shortage of data scientists who can analyze the results.
- On the other hand, the transportation policy authorities explained that the "technology required to construct a MaaS system already exists in the U.S. Therefore, technology is not a problem. Rather, public policy goals such as reduction of CO2 emissions and improvements in air pollution need to be established to realize a successful MaaS system."
- An analysis finding that the proliferation of transportation network companies (TNCs), which are the leading providers of new mobility services, has caused a reduction in the number of users of public transportation and an increase in traffic congestion has become the accepted view of the public transportation authorities regarding TNCs. This has led to the distrust of TNCs, and it seems that goals are not being shared and close cooperation has not been promoted.
- However, I see signs that the two sides have started on the road to coexistence. For example, there are several types of cooperation that yield practical benefits to both sides, such as the reduction of the operating costs of unprofitable public transportation lines and encouraging station users to also use TNCs, as well as cooperation in software applications.
- Therefore, it appears that initiatives related to MOD/MaaS will be included in city planning and transportation planning if there are recommendations of local councils and leadership of mayors to that effect.
- To sum up, two lessons have been indicated.
(1) An essential point is to create a structure whereby the local stakeholders are able to cooperate towards the achievement of common goals, i.e. solving social and local issues.
(2) Local leaders are needed who can bring about cooperation between the stakeholders at the local level for these new businesses by making adjustments so that these businesses can benefit all parties.
- Regarding the status of the novel coronavirus (COVID-19), CDC announces every day that the number of newly infected individuals exceeds 200,000. According to an APTA announcement, the number of users of heavy rail transportation modes including subways decreased 87% in the 2nd quarter and 72% in the 3rd quarter compared to last-year, a devastating blow.
Subsequently, Mr. KATO Hironori, Professor of Civil Engineering as the University of Tokyo and Senior Research Advisor for Japan Transport and Tourism Research Institute (JTTRI), made the following comments and questions.
- Comments
I believe that MOD in the U.S. is hindered by quite conservative ways of thinking, but it can be promoted as the realistic alternative when the point of view of public transportation institutions which require the safety and sustainability of transportation services is taken.

It is surprising that the added value of new mobility service in MOD is not expected to be high in the U.S. Excessive expectations for new technology may be alternating with disillusionment and low expectations.

It is regrettable that public transportation institutions and the TNCs do not share a common vision. However, even in the U.S., one of the first countries where new mobility services have grown, it seems to be difficult for managers of existing transportation systems to communicate with transportation service providers who are not transportation companies, like TNCs.
- Questions

(1) Based on the experiences of MOD in the U.S., what advice may be given to those who are formulating MaaS policy in Japan?

(2) It is possible for MOD to be led by the private sector, not the public transportation bodies as in the U.S.? What are the conditions to met for MOD to be led by the private sector?

(3) How do you think the future goals of transportation policy will (must) change as new mobility services appear?

Mr. Miyamoto responded to these questions as follows.

(1) I suggest that Japan carry out three tasks: extracting and recognizing the issues in each local area, developing a stakeholder cooperation structure, and bringing data scientists into public transportation bodies.

(2) It seems that there is not enough communication between the public transportation authorities and the private sector's new mobility companies due to the distrust of TNCs in the U.S. Therefore, as a precondition, I believe that it is important to prepare meeting places for communication between both sides, to get both sides to share a vision, and to build win-win relationships.

(3) How to incorporate pressing social issues and the viewpoints of users into the high-priority goals is a key question. We should pay attention to the effect of the change in the U.S. administration on the overall direction of relevant governmental policies.

Finally, in response to the questions from the viewers as well, discussions were held on the importance of detecting MOD-related developments in local areas, the relationship between the low income segment of the population and MOD, and the social issues in cooperation between the government and private sector, of sharing a vision, and of developing and employing ICT personnel including data scientists.

This colloquium was lively and instructive thanks to its 350 participants, including research institutions such as universities, the Ministry of Land, Infrastructure, Transport and Tourism (MLIT), railway and airline companies, and consultants.