JTTRI International Webinar
"Life Cycle Assessment of New Maritime Fuels"
International Activities
Maritime
Upload a Seminar Recording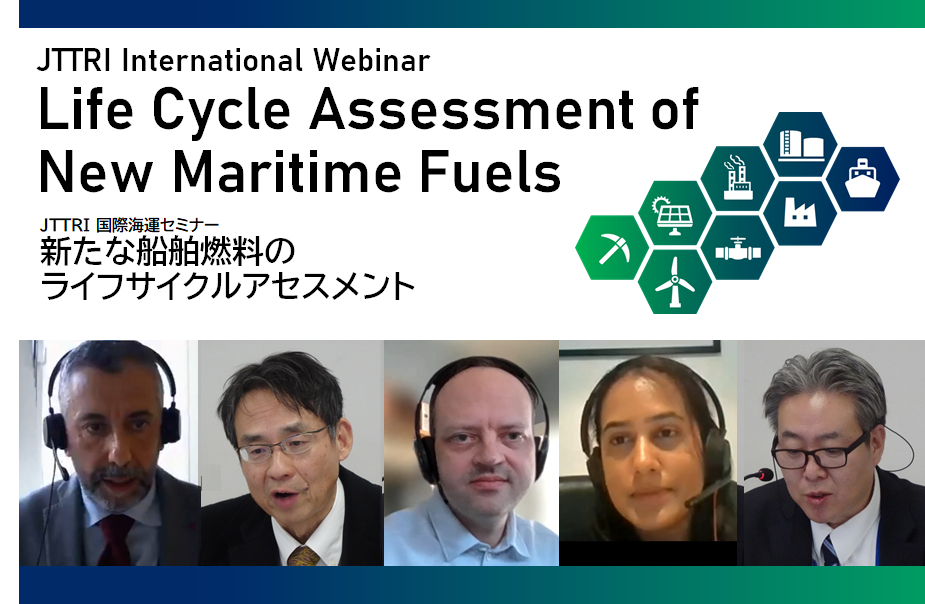 | | |
| --- | --- |
| Organizer | Japan Transport and Tourism Research Institute (JTTRI)  |
| Date / Time | Thu, Feb 24,2022 10:00-12:30 GMT |
| Theme | Life Cycle Assessment of New Maritime Fuels |
Event Summary
The seminar is organized by JTTRI (Japan Transport and Tourism Research Institute), in collaboration with the Administrations of Japan, Australia, Norway and European Comssion.

Various new low-carbon and zero-carbon maritime fuels are emerging such as LNG, methanol, Biodiesel, Ammonia, and Hydrogen; synthetic fuels made from captured carbon would join the portfolio in the future.
In light of ambitious goals under the IMO-GHG strategies, with possible revision in the near future, the potential GHG emission reduction through the onboard application of conventional energy saving technologies would saturate. It is crucial to promote the investments on, and the uptake of, new fuels which would have an overall positive climate impact.

In order to develop effective policy tools in such direction, we need to pay attention to total supply chain of those fuels, and establish analytical approaches for assessing and quantifying upstream and downstream GHG emissions; such assessment should be based on transparent methodologies and scientific criteria, possibly with robust certification scheme.


In this context, IMO has been working on the developing the draft Lifecycle GHG and Carbon Intensity Guidelines for Maritime Fuels, which provides Well-to-Tank and Tank-to-Wake GHG emission factors.

While there is a view that the upstream emission would be largely out of IMO's field of influence, the organizer considers that analytical methodologies of upstream emission assessment – Life Cycle Assessment of GHG emission of a particular type of maritime fuel – is a useful tool in order NOT to incentivize the uptake of fuels and their associated pathways with an overall adverse GHG impacts. Furthermore, JTTRI would like to invite attention of the regulators that oversimplification of the upstream emission involves risks of giving commercial advantages to the onboard use of those fuels which emit a larger amount of GHG through the supply chain.




Recording Distribution Service
When using this service, please read the following terms of use and use it only if you agree to them.
Copyright
The copyright for the contents of this website (text, photographs, images, sound, graphics, etc.) and their arrangement and editing belongs to the creator and the Japan Transport and Tourism Research Institute(JTTRI).
Unauthorized use, reprinting, modification, or commercial use of these materials is strictly prohibited.
Disclaimer
Although the Institute operates with the utmost care related to the information posted on the Recording Distribution Service, it does not guarantee the complete accuracy of the Service. The Institute shall not be liable for any trouble, loss, or damage caused by the contents posted on the service or by the use of them.
Please note that the Institute may change the information posted on the service without prior notice, or may suspend or discontinue the service.
00:00

03:28

08:40

30:01

1:07:45

1:24:06

1:41:45
Program of the seminar is as the following
Opening Address

SHUKURI Masafumi
 Chairman of Japan Transport and Tourism Research Institute


bio
Opening Address

Lecture
Lecture

OTSUBO Shinichiro, Ph.D.
 Visiting Research Fellow, Japan Transport and Tourism Research Institute(JTTRI)
 Former Director-General, Maritime Bureau,
 Ministry of Land, Infrastructure, Transport and Tourism of Japan


"Estimation of WtT Emissions of Zero- or Low-Carbon Fuels
~Fuel Pathway Case Studies for Further Consideration of the Draft LCA Guidelines~"


Lecture
Lecture
Q/A & Wrap Up Session

【Moderator】
NAKAGAWA Naoto
Director of International Environment Office,
Ocean Development and Environment Policy Division, Maritime Bureau,
Ministry of Land, Infrastructure, Transport and Tourism of Japan


bio
Outline of the seminar
We received a number of very important questions during the webinar.
Here is a Q&A on some of the Typical questions.
Typical Q & A