New stage of urban transportation in Asia
~Current status and future trends on Rail and Bus linkage functions in Bangkok~
Colloquium
Railways and Railway and Area Development
Road transport
The 149th Transport Policy Colloquium Bangkok Report~Startup Series Part 4~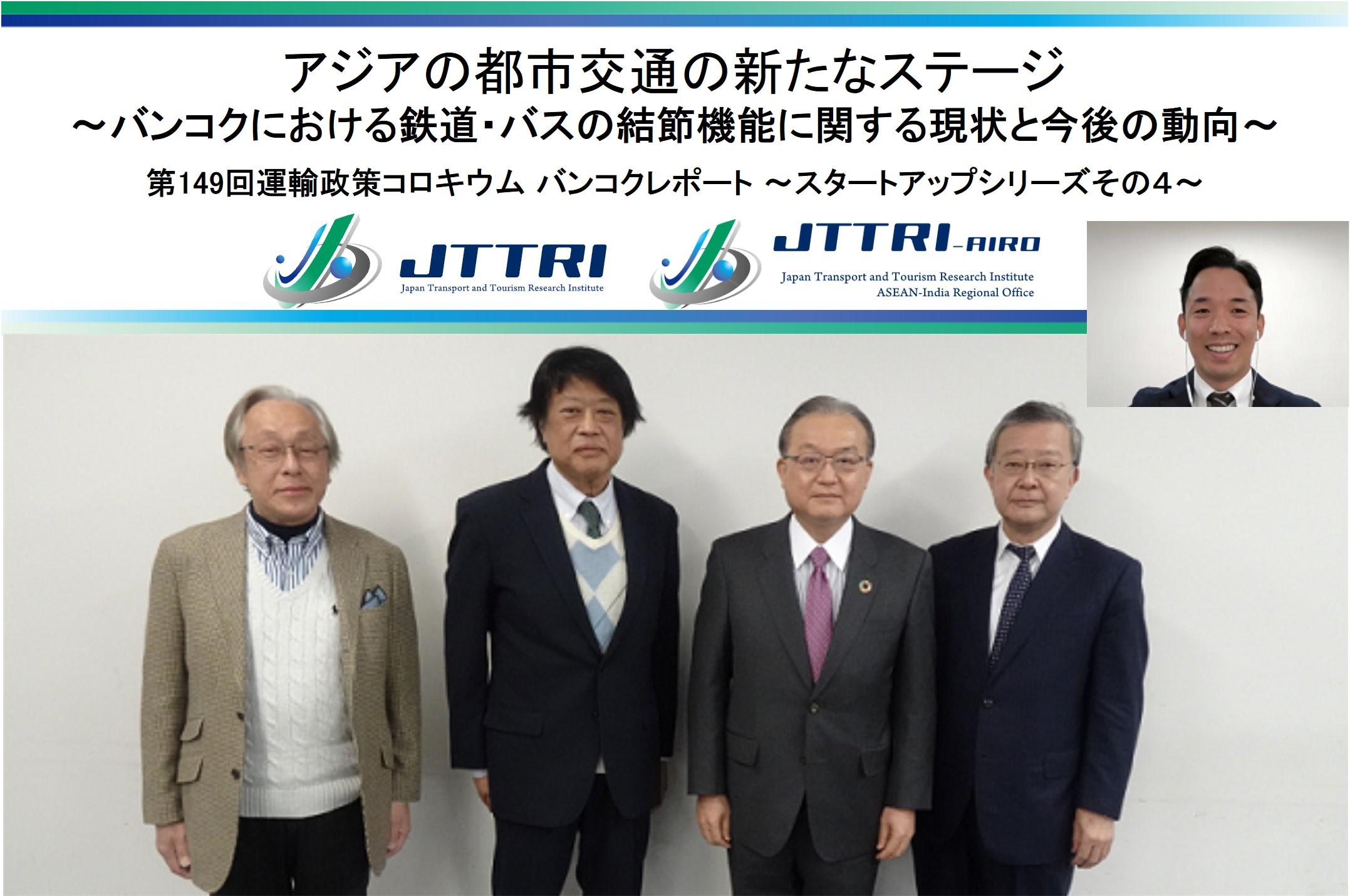 Date / Time
Thu, Feb 10,2022 10:00~12:00
Event Number
The 149th
Theme
New stage of urban transportation in Asia
~Current status and future trends on Rail and Bus linkage functions in Bangkok~
Lecturer
Lecturer:MINAMI Yusuke
 Research Fellow
 Japan Transport and Tourism Research Institute ASEAN-India Regional Office

Commentator:FUKUDA Atsushi
 Professor, Department of Transportation Systems Engineering, College of Science and Technology,
 Nihon University

<Discussion>
Coordinator:YAMAUCHI Hirotaka 
 President for Research, Japan Transport and Tourism Research Institute (JTTRI)
Event Summary
Program of the seminar is as the following
Opening Remarks

SHUKURI Masafumi
 Chairman, Japan Transport and Tourism Research Institute (JTTRI)

Lecturer

OKAMOTO Yasuhiro
 Research Fellow,
 ASEAN-India Regional Office(AIRO)

Commentator

FUKUDA Atsushi
 Professor, Department of Transportation Systems Engineering, College of Science and Technology,
 Nihon University


Discussion

<Coordinator>
YAMAUCHI Hirotaka
President for Research, Japan Transport and Tourism Research Institute (JTTRI)


Closing Remarks

OKUDA Tetsuya
 President for International affairs, Japan Transport and Tourism Research Institute (JTTRI)
 President, Japan International Transport and Tourism Institute, USA(JITTI)
 President, ASEAN-India Regional Office(AIRO)

Outline of the seminar
In recent years, Thailand has been actively implementing a number of projects centered on railway development and improvement, utilizing financial and technical assistance such as ODA from Japan. In particular, the urban railway network is steadily expanding mainly in the capital city of Bangkok, and is becoming established as an indispensable part of citizens' lives as the number of users increases year by year. On the other hand, the number of people using buses, which until now have played a central role in public transportation in Bangkok and other areas, continues to decrease, and there are still issues remaining regarding the expansion of the use of public transportation as a whole. In light of these points, this colloquium examined and analyzed the local situation with regard to improving the convenience of railway and bus services and further expanding their use from the viewpoint of linkage functions of both railways and buses, and highlighted future trends and directions to be taken, including new measures for the development of railways and other public transportation modes.
**********************************************************
Mr. MINAMI, a research fellow from the ASEAN-India Regional Office, gave a presentation on the theme of "New Stage of Urban Transportation in Asia – Current Status and Future Trends on Rail and Bus Linkage Functions in Bangkok –." The points of the presentation are as follows.
[General Situation of Railways and Buses in Bangkok]
・In the Bangkok Metropolitan Region, which is the center of Thailand, the development of a transportation network of urban railways has been underway since around 2000, with approximately 210 km of lines in operation and approximately 90 km of lines under construction. With the development of the urban railway network, the number of railway users has been increasing year by year. Before the COVID-19 pandemic, more than one million people per day used the railways.
・From around 1990 to 2020, the number of public bus users decreased to less than one-fourth, while the number of private cars in Bangkok increased approximately four-fold. The number of bus users has decreased significantly due to the influence of private motor vehicle use, and the public enterprise that operates the bus service has accumulated a large amount of debt and is taking initiatives based on a rehabilitation plan.
・There are few cases of systematic development of transportation hubs such as station squares in the vicinities of railway stations, and therefore poor linkage between railways, buses or other transportation modes has been pointed out as an issue. In a situation where the number of users has been decreasing due to the impact of COVID-19, as one of the measures to sustainably provide public transportation services, it is necessary to expand the use of public transportation as a whole by improving linkage functions of both railways and buses.
[Field Survey on Rail and Bus Linkage Functions]
・A field survey was conducted to assess the current situation of the linkage between railways and buses. The survey was conducted at 40 railway stations and 111 bus stops in their vicinities to identify local issues and to confirm (1) the distance between railway station and bus stop, (2) the presence of shelters and seats at bus stops, and (3) the presence of transfer route information.
・Local issues identified included walking environment around stations, environment of bus waiting spaces, safety and security measures when using buses, and competition with various means of transportation concentrated in the vicinity of stations.
・As for the hardware-related items, such as (1) and (2), linkage functions do not tend to be rated particularly poorly. However, it is believed that the local conditions, such as the walking environment and the environment of bus waiting spaces, have a significant influence on the evaluation of linkage functions. As for the software-related item of (3), an overall tendency for inadequate information to be provided has been confirmed.
[Policy Trends Regarding Railways and Other Public Transportation in Thailand]
・In 2019, the Department of Rail Transport was established, clarifying the entity responsible for rail administration.
・A new master plan for railways in the Bangkok Metropolitan Region is being formulated. In this process, along with the improvement in accuracy of a demand forecasting model and promotion of integration of urban railways and urban development plans, improvement measures are being considered, with the main issue being the linkage between railways and other transportation modes.
・A draft bill that comprehensively governs the handling of the railway business in Thailand was prepared and is currently under consideration by the Legislative Committee. The draft bill includes not only provisions related to the railway business itself but also provisions such as those related to connections between railways and other transportation modes and the promotion of TOD (transit-oriented development).
・With the development of administrative systems, master plans, legal systems, etc. related to the railway business, it is expected that efforts will be made to improve convenience of not only railways but also the entire transportation network centered on railways.
[Considerations and Suggestions for Future Urban Transportation]
・As for railways to be planned and developed in the future, it is necessary to consider not only the expansion of the railway network but also the linkage with other transportation modes and the entire transportation network.
・Railways which have been developed so far have been constructed mainly in urban areas, and it is a very difficult task to plan and implement redevelopment of areas around stations while areas along such railways constructed in urban areas are being developed by private enterprises. It is necessary to consider appropriate measures for redevelopment of areas around the stations by understanding local conditions and issues, and utilizing various systems. For software-related measures, improvement is expected to be made through measures such as enhancement of transfer route information. For hardware-related measures, improvement is expected to be made by devising measures such as transportation hubs that utilize space three-dimensionally.
Professor FUKUDA of the Department of Transportation Systems Engineering, College of Science and Technology, Nihon University provided supplementary explanation and comments regarding the presentation by Research Fellow MINAMI. The main contents are as follows.
[Issues related to urban railway development in Bangkok]
・Many urban railway lines have been developed in the absence of any organization having jurisdiction over them. The Department of Rail Transport (DRT) was established within the Ministry of Transport in 2019, and Mr. FUKUDA would like to look forward to roles that DRT will play.
[What is access traffic based on the assumption of multimodal transportation?]
・Until around 1850, Bangkok was a low-lying area with few roads, being a water-based city where people and goods moved largely by canal and river. As a result, a fishbone-like network of Thanon (major streets) and Soi (side streets) developed. Before the arrival of urban railways, a hierarchical transportation system existed, with a division of functions between fixed-route buses and mini vans running along the Thanons, and Songthaew, Silorlek and motorcycle taxis plying the Sois.
・In the urban area of Bangkok, which has developed focusing on road transportation as just described, urban railways have been increasingly introduced since around 2000, so that ensuring accessibility to railway stations will be the key to the future. Although residential areas around suburban railway stations have been developed, access to the stations on foot is inconvenient because the surrounding streets have not been developed in a planned manner, and access is provided by trip end modes such as P&R, motorcycle taxis and Songthaew. Condominiums are being developed around railway stations in the city center, but many of the residents use automobiles. So, it is not transit-oriented development (TOD). On the other hand, for egress in the city center, the percentage of people who walk has been increasing.
[Development of transportation hubs]
・Getting on and off at bus stops, especially near railway stations, causes traffic congestion.
・Countermeasures, such as the establishment of transportation terminals including P&R in line with the railway development, modernization of bus stops and improvement of bus terminals, have been proposed. For motorcycle taxis which wait for customers at the entrances of Sois, it is necessary to secure spaces for them as motorcycle taxi stands.
[Actual condition of bus services and the concept of bus route reorganization]
・Since the BMTA was established by merging the former bus companies, pre-merger routes of the former companies have continued to be used. As a result, many of the routes overlap or have running distances of more than 40 km, making them unprofitable.
・While the road transportation network for automobiles is expanding as the urban area expands, the service area of public transportation by railways and buses is limited to a radius of about 20 km from the city center. On the other hand, the average trip time by automobile is about 35 minutes, while that by public transportation is about 50 minutes.
・The Thai Ministry of Transport is considering reorganization of bus routes in line with the development of urban railways, which will be able to reduce overlapping bus routes and expand the service area. Accessibility in Bangkok is expected to be greatly improved through coordination with the railway development.
[Points to be discussed regarding the presentation by Research Fellow MINAMI]
・If Japan supports the development of transportation hubs you are proposing, what kind of experience from Japan do you think we can make use of?
・(Research Fellow MINAMI's answer): I think that we can utilize software-related measures first, instead of hardware-related measures. In the field survey I conducted, I was able to confirm the lack of transfer route information. Specific measures taken in Japan include measures based on guidelines for facilitating mobility related to passenger facilities, and standardization of information displays according to JIS.
・If the above is implemented as a JICA technical cooperation project, what kind of support are you thinking of specifically (including the latest information on legal and organizational development)?
・(Research Fellow MINAMI's answer): I propose assistance for improving the functions of transfer and other information facilities. I hope that various parties involved in public transportation will cooperate and collaborate with each other through understanding of current situations, identification of issues, and consideration, proposal and implementation of improvement measures.
A discussion and Q&A session was held with Mr. YAMAUCHI, President for Research at the Japan Transport and Tourism Research Institute (JTTRI), as coordinator. The main discussion points and Qs and As were as follows.
〇Compared to the development around railway stations in Japan, are there any points or systems in Thailand that should reflect the development in Japan?
・The Skywalks (pedestrian decks) are relatively flexible and easy to use, so they may be helpful. 〇It seems that the upward trend of railway users is less steep than that of automobile users. What is the relationship between the extension of railway lines and the increase in railway users?
・In the first place, areas that can be reached by rail alone are still limited, and it may be more convenient to use an automobile when, for example, one needs to commute to and from work and also take family members to and from certain places. Another factor is that many of the urban trains are made up of only 3-4 cars and do not have sufficient transportation capacity.
〇I have heard that there is a lot of demand for commuter buses from the suburbs to Bangkok, technology parks, etc. Are there any pre-booking type aggregators or platforms for such demand?
・Several bus-related applications have been created, but they may not be very useful because the roads are often congested, and buses may not arrive on schedule.
〇Is it possible to promote the utilization of green mobility in Bangkok, mainly in the Sois?
・The main Thanons form 2- to 3-km square city blocks with Sois running through them, but many of the Sois are dead-end, and cannot be used as through routes. Since each Soi forms a community, it is believed that there is much room for the utilization of green mobility.
〇Has the railway construction associated with the development of the U-Tapao Airport started?
・A three-airport high-speed railway project is underway to connect the U-Tapao, Suvarnabhumi and Don Mueang Airports.
〇Why do bus operators not give up fixed-route buses even though the routes may be unprofitable? Is it to protect some vested interests?
・Possible backgrounds include government subsidies and labor-management issues.
〇When station facilities such as stairs are installed, there are restrictions due to existing buildings. Are there any measures for improvement?
・It is difficult under such restrictions, but, for example, in the case of the Purple Line in the suburbs, facilities such as stairs and elevators are installed outside of the road site. Therefore, it is necessary to take appropriate measures according to situations around a station.
〇M-MAP2 is currently under consideration. Does this master plan also stipulate specific methods of urban railway development, or is it planned to cover only general matters such as route maps and principles?
・As this is only a master plan, I believe that detailed consideration will be made and specifications and standards will be decided for each route. The Japanese side is in a position to support the Thai government, but it is expected that the Japanese side will focus on supporting the consideration of institutional aspects such as development schemes.