The 2nd TTPU Seminar ~ Approaches to Develop New Sustainable Mobility Solutions ~
Transportation
Innovation
Combined use of venues in Tokyo and online holding (Up to 150 person)
※Please note that terms may change due to COVID19
※Japanese Language Only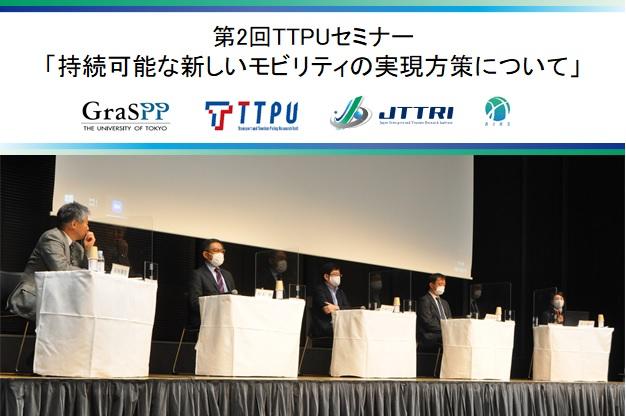 Organizer
Organizer:
 Graduate School of Public Policy (GraSPP), The University of Tokyo
Co-organizer:
 Japan Transport and Tourist Research Institute (JTTRI)
 Research Institute for Road and Street(RIRS)
Date / Time
Mon, Feb 15,2021 15:00~17:30
Venue
Bellesalle Onarimon St., 3rd Floor Hall (Tokyo)
Theme
Approaches to Develop New Sustainable Mobility Solutions
Lecturer
Opening Remarks:
 OHASHI Hiroshi Dean, Graduate School of Public Policy (GraSPP), The University of Tokyo
 SHUKURI Masafumi Chairman, Japan Transport and Tourism Research Institute (JTTRI)
 Visiting Professor, Graduate School of Public Policy (GraSPP), The University of Tokyo
Keynote Speech 1:'Realization of the Sustainable Transportation System and Promotion of the Japanese Version of MaaS'
 KUBOTA Masaharu Deputy Minister for Public Transport and Logistics Policy,
 Ministry of Land, Infrastructure, Transport and Tourism (MLIT)
Keynote Speech 2:'New Challenges for Regional Public Transportation'
 ISHIDA Haruo Specially Appointed Professor, University of Tsukuba
 Chairman of Research Institute for Road and Street
Presentation 1:'Development of New Mobility Service in a Country with a Mature Transportation System'
 MATSUMOTO Jun CEO, Michinori Holdings, Inc., Board Member/ Partner, Industrial Growth Platform, Inc.
Presentation 2:'Mobility Service for the New Normal'
 MURASE Shigetaka CEO, WILLER, Inc.
- Panel Discussion -
Panelists:
 KAWADA Atsuya Director, New Mobility Service Division, Policy Bureau,
 Ministry of Land, Infrastructure, Transport and Tourism (MLIT)
 TANIGUCHI Ayako Professor, System & Information Engineering University of Tsukuba
 MATSUMOTO Jun CEO, Michinori Holdings, Inc., Board Member/ Partner, Industrial Growth Platform, Inc.
 MURASE Shigetaka CEO, WILLER, Inc.
Moderator:
 ISHIDA Haruo Specially Appointed Professor, University of Tsukuba
 Chairman of Research Institute for Road and Street
Closing Remarks:
 HASE Tomoharu Project Professor, Graduate School of Public Policy (GraSPP), the University of Tokyo
Event Summary
※For further details, please visit the following TTPU's website.(Japanese Language)

http://www.pp.u-tokyo.ac.jp/en/events/2020-12-28-28109/

New Mobility Service with cutting-edge technology helps to solve transportation challenges in regions. It even has the potential to change people's lifestyle and city-making. In Japan, test cases have progressed and ideas on new mobility services has appeared. The COVID-19 pandemic in 2020 has also shifted people's values and lifestyle. Expectation towards new mobility services has risen with the change of daily movement and activities.
Recognizing the importance of new mobility services as a research topic, Transportation and Tourism Policy Research Unit (TTPU) at the Graduate School of Public Policy (GraSPP), University of Tokyo hosted the 1st TTPU seminar titled 'Realizing New Mobility Services -Examining Japanese MaaS from user's perspective' in February 2020, and discussed the role and expectations of the new mobility services.
Japan Transport and Tourism Research Institute (JTTRI), which is in partnership with TTPU, has also been addressing this research topic on new mobility service, with Prof. ISHIDA Haruo of Tsukuba University (also a board member of JTTRI) as the head of a research committee.
Considering the current socio-economic situation and the progress in mobility services, the 2nd TTPU seminar will address how to sustainably adopt the new mobility services in real-life. The seminar will welcome leading advocates in this field, policy makers and business leaders. The seminar program is established based on the research at JTTRI.